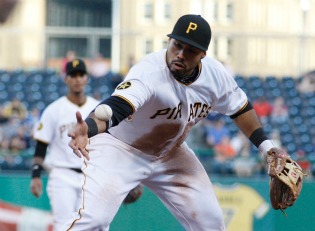 By Evan Brunell

When Pedro Alvarez went on the disabled list with a right quad strain in late May, many believed he would return to his third base gig before long, despite an anemic .203/.283/.304 line.
But after a rehab stint, Alvarez was demoted to Triple-A, much to his displeasure. It's hard to blame Pittsburgh for the demotion -- even with Alvarez's power potential, he just wasn't delivering.
The problem is that
Brandon Wood
and
Chase D'Arnaud
haven't delivered either. With Alvarez hitting .350/.444/.550 in 72 plate appearances down on the farm with three home runs, manager Clint Hurdle isn't sold that Alvarez is needed right now, even as the club chases a winning season for the first time since 1992.
"It's a two-edged sword," Hurdle said. "You want to take both of those factors [production vs. development] into play. I think we're probably getting as good as information as you can get."
Hurdle added that by competing in Triple-A, Alvarez may be able to take a step forward. That sounds counter to logic, as Alvarez seems to have nothing left to prove, and any future development is likely to come in the bigs. But Hurdle disagrees.
"I think one of the biggest challenges for young hitters is, they put in tireless preparation," Hurdle said. "They spend countless hours in practice on honing a skill. The biggest challenge is taking that work and trusting that work in a game.
"What we're encouraging Pedro to do is just stay, hold fast, to that process that he's working through and trust it and actually give all that hard work an opportunity to play out in a game, and what better environment to do it in where the consequences and the final result isn't as magnified as it is here?"
Regardless, as Pittsburgh searches for bats and a way to keep its pitching rotation afloat, Alvarez represents one of the best ways for the Pirates to improve its club without having to give up anything. It would be a surprise if Alvarez wasn't back with the club by the beginning of August.
For more baseball news, rumors and analysis, follow @cbssportsmlb on Twitter or subscribe to the RSS feed.