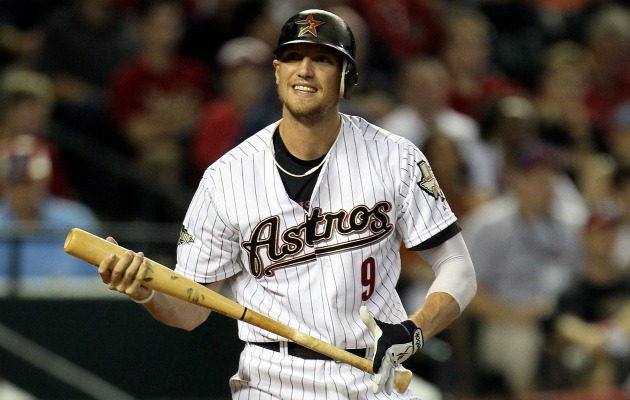 By Evan Brunell

Over the last two games, I had the pleasure -- if one could call it that -- of watching the
Mariners
battle the
Red Sox
at Fenway Park.
To no one's surprise, Seattle lost the first two games, running its losing streak to 14. It's gotten so desperate out in Seattle that manager Eric Wedge
lopped off his enormous handlebar mustache
to try to shake things up.
Unfortunately, the loss of Wedge's mustache won't mitigate the brutal offense of the team. In fact, there's only one player in Seattle's regular starting lineup that would have a prayer of cracking Boston's lineup. That's second baseman
Dustin Ackley
, who bats third for Seattle. The problem is, while he would certainly supplant shortstop
Marco Scutaro
in Boston's lineup, he can't play short and
Dustin Pedroia
isn't stepping aside for Ackley.
Seattle was a historically inept offensive club last season, and while its improved this year, it's not by much. Before this losing streak, Seattle was right in the thick of the division race, but it's hard to stay in the hunt when you just can't push runs across. Improving the team's offense is of the highest priority int he offseason, but why wait there?
Hunter Pence
of the
Astros
would be a great fit for Seattle, and the Mariners can bring Pence in immediately to at least try to end the season on a high note.
There are three ways Pence fits with the Mariners. First is his offense, obviously. Second is his position of right field, and lastly is his age and contract.
If the Mariners acquired Pence, he would certainly start batting third or fourth in the order on the strength of his .309/.354/.474 mark. While it's not a career-best line, it is his best offensive performance relative to the league, as his .322/.360/.539 mark back in 2007 was in a healthier offensive climate. The ways that Pence would upgrade Seattle are clear -- it's the same way Pence would upgrade every other team. He's a strong hitter with the ability to steal 20 bases in a season and is also a strong fielder.
Speaking of fielding, Pence plays right field, a position occupied by
Ichiro Suzuki
. That's not a problem, though, because Pence could easily shift to left field and then become Ichiro's eventual replacement, should Pence remain with the Mariners at the time.
Mike Carp
is currently the (new) starting left fielder, so isn't exactly blocking anyone as a Quad-A player trying to make good in the bigs.
The negative -- if you can call it that -- on Pence is his contract. He's making $6.9 million on the season and has two more years of arbitration to go. Given Pence will likely crack $10 million in arbitration earnings next season, that means his price is rising, and rising fast. On the other hand, Pence offers two additional years of team control beyond 2011, which would be a must in Seattle's case.
It's not about 2011 anymore; it's about 2012 and beyond for Seattle. The pitching is rounding into shape, and now it's time for the offense to take hold.
Prince Fielder
has been linked to Seattle in the past, but free agency is never a sure bet. Besides, even with Pence on the team, it wouldn't preclude a run at Fielder, which would suddenly give Seattle something resembling a solid offense. People forget, but Seattle is a big-market team that hasn't played big market for a few years. Back in 2008, its $118 million payroll ranked ninth in all of baseball. In 2011, the Mariners are 16th with an $84 million payroll. Seattle has money to play with, so Pence's salary isn't as important as the fact Seattle would control him through 2013 at the earliest.
Of course, what the M's would have to give up in a trade has to be considered. It's safe to say that
Michael Pineda
won't go anywhere, but the M's have a deep enough farm system that they could get a deal done if they so desired.
Here's where we mention that there hasn't been anything linking Pence to the Mariners whatsoever. Either that's because there's nothing there or both teams are doing a stupendous job keeping quiet about it. But it's a move Seattle needs to consider to upgrade its offense. Dabbling in free agency won't be enough. Seattle has to strike soon to bolster the offense and give the team a chance to win.
For more baseball news, rumors and analysis, follow @cbssportsmlb on Twitter or subscribe to the RSS feed.