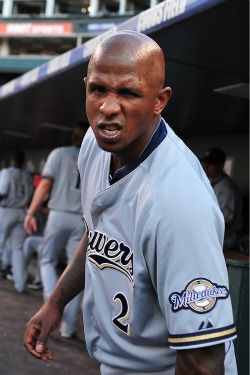 By C. Trent Rosecrans
The frame-by-frame video showed Nyjer Morgan didn't give the middle finger to Giants fans on Friday, but the hand gesture was certainly interpreted as such by many -- and the intent obviously wasn't friendly.

Morgan made the gesture after running down Nate Schierholtz's fly ball for the second out of the seventh inning in Milwaukee's 4-2 victory on Friday -- see it here.
After playfully answering questions following Friday's game, Morgan had a discussion with manager Ron Roenicke and expressed some contrition before Saturday's game in San Francisco.
From Tom Haudricourt of the Journal Sentinel:
"I didn't flip them off," said Morgan. "I know it's still a family show. I just brought it up too high. I was too aggressive.

"I had just made a nice play. I was excited.

"I'm still going to be me. I'm just going to be more careful. I've just got to understand what to do and what not to do. But I'm still going to play with the same intensity, the same energy."
Morgan was roundly booed before his first plate appearance on Saturday and promptly grounded into a double play, bringing plenty of cheers.
If it were any other player other than Morgan, it's doubtful his gesture from Friday night would have been as big of a deal. However, few players would have done that in the first place. Morgan has been a controversial player in Pittsburgh and Washington before coming to the Brewers -- but he's that type of player you love if he's on your team and you loathe if he's on the other team. He plays hard and isn't afraid to be demonstrative. That rubs a lot of people the wrong way, but I'll take effort and exuberance over a lack of effort any day.

For more baseball news, rumors and analysis, follow @cbssportsmlb on Twitter or subscribe to the RSS feed.