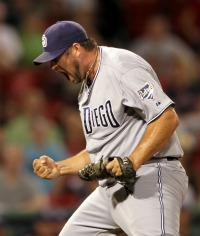 By C. Trent Rosecrans
There are a lot of trade rumors out there right now, and Heath Bell is at the center of many of them. The Padres closer told David Hale of the News Journal in Delaware that he's paying close attention to all the rumors.
Bell said his wife and kids have made their preferred choices known. The trade will serve as a vacation of sorts, if anyone who lives in San Diego really needs to go anywhere for vacation. Nobody, Bell noted, was interested in visiting the Liberty Bell.
That doesn't mean Bell wouldn't be happy to go to the Phillies. He said the park is fine if you're a good pitcher and the fans aren't that bad. "They've never told me I suck," Bell told Hale. "They just say I'm fat."
Bell said he didn't mind serving as a setup man for the rest of 2011, but he will be a free agent after the season and would like to be a closer in 2012.
For more baseball news, rumors and analysis, follow @cbssportsmlb on Twitter or subscribe to the RSS feed.