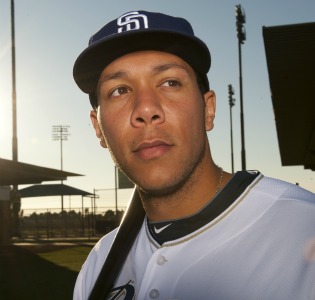 By Evan Brunell

The
Padres
demoted first baseman
Anthony Rizzo
to Triple-A after he struggled in his big-league debut. Rizzo hit just .143/.282/.265 in 117 plate appearances, bashing just one home run.
This after tearing apart Triple-A in 52 games, blasting 16 home runs and contributing a .365 average. That smacks of someone who no longer needs any seasoning, but the 21-year-old couldn't figure out the bigs in time to save his job. While he should be back by September at the latest, the new first baseman for the team is Kyle Blanks (pictured).
You may recall Blanks from back in 2009, when the then 22-year-old bombed 10 home runs in 54 games. He was
Mike Stanton
before Stanton completely rewrote the books on power from young players. Blanks couldn't keep the good times rolling in 2010 before undergoing Tommy John surgery and missing much of the season. He got off to a late start this season after missing more time due to Tommy John recovery, but since then he has been a man on a mission.
Buried at Double-A due to Rizzo at Triple-A, Blanks, 24, hit .282/.353/.475 in 201 PA but turned on the jets upon promotion to Triple-A. He's cranked 11 home runs for Tucson, which is admittedly a hitter's environment, but a .351/.421/.716 line isn't one to sneeze at regardless of where you hit. Blanks' future is likely in left field once Rizzo sticks for good, but in the interim he should give the Padres some thump with his bat as well as some time to evaluate Blanks to determine how he fits in the 2012 puzzle.
For more baseball news, rumors and analysis, follow @cbssportsmlb on Twitter or subscribe to the RSS feed.