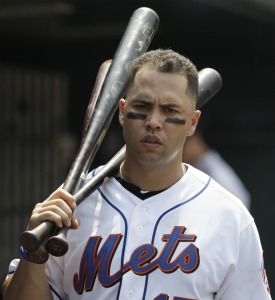 By C. Trent Rosecrans
The biggest thing to remember with Carlos Beltran is that the veteran still has full no-trade protection, so he's not going to go anywhere he doesn't want to go.
Speaking to David Lennon of the Newsday, Beltran said there are two big factors that will influence his stay-or-go decision: 1. the quality of the pitching staff of his new team and 2. the designated hitter, and his desire not to play that position.
Now, Beltran said that doesn't necessarily mean he will veto a trade to the American League, but it's something to keep in mind.
"Right now, if it happens that I have to choose between one of the two (Red Sox or Phillies), then I have to sit down, and say you know what, the decision will be based more on the chances of being able to say they have a good pitching staff," Beltran told Lennon. "Remember, baseball is about pitching, so you want to be on a team where they have a good pitching staff, because those are the guys that are going to get you to the playoffs."
And advance you in the playoffs.
Beltran also noted that he feels his knees are in good enough shape to make a long run into October. He's played in 93 of 98 the Mets' games this season.
On Thursday, Beltran played in what may have been his last game as a Met at Citi Field, flying out to left in the ninth inning of a 6-2 loss to the Cardinals. He received a loud ovation before his at-bat and even received some applause as he jogged back to the dugout.
"I heard the fans cheering," Beltran told the Associated Press. "It was great. Let's hope I can come back."
Beltran was 0 for 3 with a walk, extending his streak of reaching base safely to 27 games.
For more baseball news, rumors and analysis, follow @cbssportsmlb on Twitter or subscribe to the RSS feed.