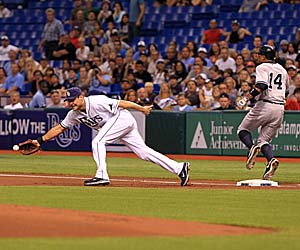 By Matt Snyder
Tropicana Field, home of the Tampa Bay
Rays
, has never been especially popular. There are several reasons for this, such as: 1) It's a dome, which is quite archaic at this point; 2) It's not aesthetically pleasing; 3) The location means it takes Tampa resident upward of a hour to get there; 4) It rarely draws close to capacity.
Things have gotten so bad that Rays president Matt Silverman said the malign affects the Rays and damages the reputation of the entire region.
"Clearly, something needs to be done," he said (
TampaBay.com
).
Rays manager Joe Maddon has also gotten in on the action, saying the Trop has become "improper" for Major League Baseball, that it has "served its purpose" and it is "time to move on." (
TampaBay.com
)
There's a problem, though. If the Rays wish to remain in the immediate area -- like moving from St. Peterburg to Tampa, which would make sense -- they're going to have a tough time doing so.
"They have 15 years left on their lease agreement … so, yeah, I'm holding on pretty tightly," St. Pete mayor Bill Foster said (
TampaBay.com
). "If they want to look at sites within Pinellas County, I'm all for that."
I don't think there's any question that something needs to be done. The Rays have been one of the most competitive teams in baseball since 2008, and that's against the
Yankees
and
Red Sox
having exponentially higher payrolls in the AL East. Still, the Rays have only drawn more fans per game than the A's and
Marlins
this season. The Marlins have a new stadium coming next season, too.
You can talk about being a small-market team, but both the
Indians
and
Pirates
have seen large spikes these past few months as they have been playing winning baseball. The
Brewers
draw more than 15,000 more fans a game than the Rays. The Rays have been playing winning baseball for three-plus seasons, and nothing drastic is happening, which leads one to believe it never will as things currently stand.
The blame may not lie completely with the ballpark, but until the Rays have a new one, we'll never know. Until then, Tropicana Field will continue to be the scapegoat.
For more baseball news, rumors and analysis, follow @cbssportsmlb on Twitter or subscribe to the RSS feed.