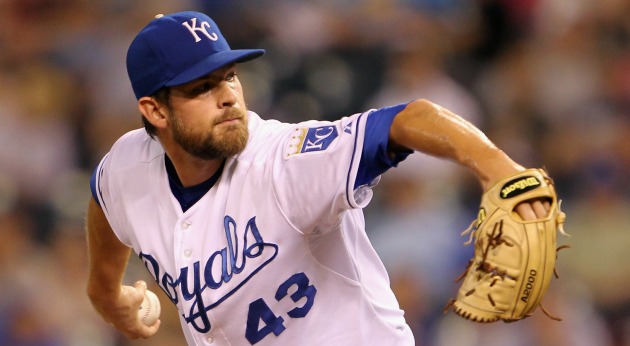 By Evan Brunell

The
Royals
drafted
Aaron Crow
with the No. 12 overall pick in the 2009 draft, but just two years later, converted the starting pitcher to relief. While he's delivered by earning an All-Star nomination on the backing of a 2.00 ERA in 45 innings and punching out 45 while walking 20, it was always curious that K.C. put Crow in the bullpen.
Yes, Crow had an unsightly 5.73 ERA last season in 29 starts, 22 of which came at Double-A. His peripherals didn't hint at much of an improvement, but it was still curious to see Kansas City give up so fast on Crow as a starting pitcher.
Well, apparently they didn't. GM Dayton Moore told Jim Bowden of ESPN that Crow will be moved into the rotation for 2012. Not only will that bolster the Royals' starting pitching depth -- which, despite no shortage of pitching prospects in the minors, is always in demand -- but it seemingly keeps
Joakim Soria
a valuable part of the Royals, as there was speculation Soria could be traded with Crow becoming the new closer.
Is there some use to Crow becoming a starter? Well, as
Baseball Prospectus displayed earlier today
in discussing
Orioles
reliever
Jim Johnson
being shifted to the rotation, you can apply a rule of 17 to relief pitchers to see how well they would fare as a starter.
"A reliever moving to the rotation should expect his earned run average to increase by a run, his strikeout rate to dip by 17 percent, his walk rate to remain static, his home run per contacted plate appearance rate to increase by 17 percent, and his batting average on balls in play to increase by 17 points," R.J. Anderson writes.
How would that translate to Aaron Crow? Let's check it out:
| Role | ERA | K/PA | BB/PA | BABIP |
| --- | --- | --- | --- | --- |
| Reliever (2011) | 2.00 | 25.0% | 11.1% | 23.6% |
| Starter (projected) | 3.00 | 20.75% | 11.1% | 27.6% |
The average pitcher has struck out 18.3 batters per plate appearance in 2011, while walking 8.2 percent. A starting pitcher's BABIP, or batting average on balls in play, tends to normalize around 28-30 percent, so Crow is still getting quite a bit of credit in that category. All told, his season as a reliever projects Crow to be a dominating starter, but it's never that simple. If Crow can carry over the progress he's made as a reliever, you could easily see him as a No. 3 in the rotation but a No. 1 starter is a ways off without improving his game, especially when his 3.15
xFIP
is so at odds with his 2.00 ERA.
Still, the way Crow has pitched this season lends credence to the idea he can be a valuable starter. Given the average velocity on his fastball is 95.5 percent, even a 2-mph dropoff from converting to a starter wouldn't adversely affect his chances of being a quality pitcher. It's the type of move the Royals should absolutely do as it can only make them better. And if the conversion fails, they have an elite setup man.
For more baseball news, rumors and analysis, follow @cbssportsmlb on Twitter or subscribe to the RSS feed.