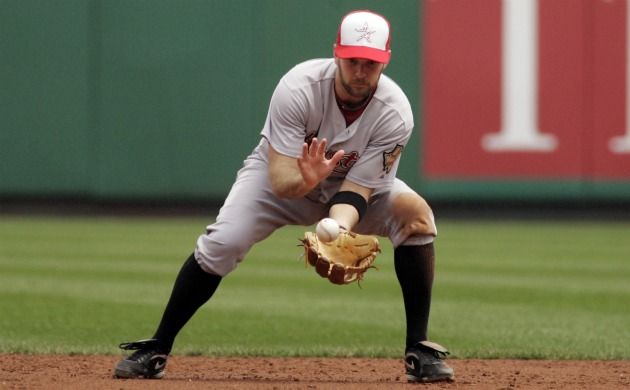 By Evan Brunell

The
Giants
acquired middle infielder
Jeff Keppinger
in an attempt to shore up the infield, which has been a point of contention for the defending World Series champions,
Houston announced
.
In return for giving up Keppinger, the 'Stros received relievers Henry Sosa and
Jason Stoffel
, while also tabbing infielder
Jose Altuve
as Keppinger's replacement.
Shortstop has been an issue in San Francisco all season long with the artist formerly known as
Miguel Tejada
passing the time at short with a .242/.274/.334 line in 322 plate appearances. To his credit, he's run up a .902 OPS in July but 45 plate appearances hardly means much. Rookie
Brandon Crawford
has also received playing time on the value of his glove as he's hitting an unimpressive .197/.281/.277 in 154 PA.
Emmanuel Burriss
and
Mike Fontenot
have also seen some time at short although they're occupied these days will playing second base as
Freddy Sanchez
is lost to injury.
Keppinger won't lack for playing time between second and shortstop, but could also spell
Pablo Sandoval
at third. That's the value of Keppinger: he can play all over the infield and has even made appearances in left and right field despite not being an exceptional fielder. He's hitting .307/.320/.436 on the season, racking up 169 PA for Houston, missing the first two months of the year due to left foot surgery. Last season, as a full-time player, he hit .288/.351/.393, so there's offense to be had.
The Giants also called up first baseman
Brandon Belt
and put him in the lineup for Tuesday night's game at first base. Belt lost his active-roster spot earlier when he went on the disabled list and was then optioned to Triple-A after starting the year with a .211/.328/.281 line in 67 PA. He's back after knocking seven home runs in 43 games for Triple-A, hitting a cool .324/.462/.549, with third catcher Hector Sanchez losing his roster spot. CBSSports.com's Danny Knobler reports that the Giants may wait to see how Keppinger and Belt help the offense before deciding what price to pay for
Carlos Beltran
of the
Mets
, who could immediately inject a bopper into the middle of the lineup. Belt could be that bopper with the ability to move around from first base to left and right field, but won't get much time before July 31 to deliver.
From Houston's end, the deal made sense. Keppinger is appealing to San Francisco because of his $2.3 million contract plus the ability to retain him during the player's final year of arbitration in 2012. But Keppinger wasn't a vital part of the rebuilding process underway, while Jose Altuve, 5-foot-7 (that's listed height, so knock two-to-three inches off for real height) offers a brighter future. Altuve
impressed many with his turn at the Futures Game during the All-Star festivities
and will immediately start at second base in lieu of Keppinger after hitting .361/.388/.569 for Double-A. at age 21. He has 10 homers combined between Double-A and high-Class A. He still needs to refine his basestealing as he's been caught 14 times already but does have a set of wheels, with 24 stolen bases on the season.
The return for Keppinger was solid -- they acquire Henry Sosa, a live-armed 25-year-old who had recently been promoted to Triple-A and enjoyed a rude awakening. He did punch out 36 batters in 40 1/3 innings at Double-A and 21 in 23 1/3 Triple-A innings, so there is some potential there. Stoffel is the more impressive catch, as the 22-year-old has a future as a setup man. He's currently in Double-A, where he's posted a 3.98 ERA in 31 2/3 innings.
For such a marginal trade, there are quite a few ramifications here for each teams, which could signal a selling process for Houston, represents a gambit by San Francisco and takes some chess pieces off the board.
For more baseball news, rumors and analysis, follow @cbssportsmlb on Twitter or subscribe to the RSS feed. Also, check out Danny Knobler's trade deadline news and rumors.