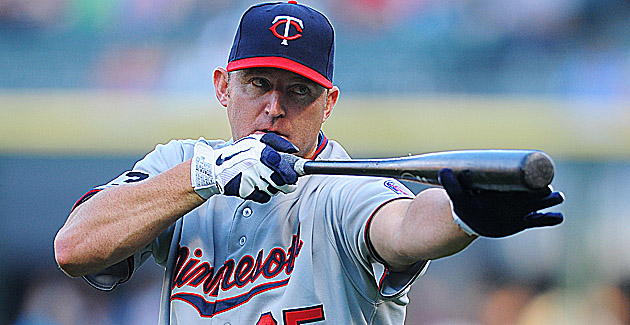 By Matt Snyder
A Major League Baseball player is going to achieve something this season that only seven others in the history of the game have. No, we aren't talking about
Derek Jeter
's 3,000th hit. That was a special moment, especially since no
Yankees
player had achieved the feat in a Yankees uniform and that he hit a home run en route to going 5-5 on that day. But Jeter became the 28th member of the 3,000-hit club.
Twins
designated hitter
Jim Thome
currently has 596 career home runs. When he hits No. 600, he'll join just seven others in that much more exclusive club: Barry Bonds, Hank Aaron, Babe Ruth, Willie Mays, Ken Griffey Jr,
Alex Rodriguez
and Sammy Sosa.
Now, here's how special Thome is. He played during the stained "steroid era" with Bonds, Sosa, A-Rod and Griffey. Griffey and Thome have never been accused of using anything by a credible source nor tested positive. Bonds, Sosa and A-Rod have. It should make us appreciate this impending feat that much more.
Career HR Leaders
Player
Total
1. Barry Bonds
762
2. Hank Aaron
755
3. Babe Ruth
714
4. Willie Mays
660
5. Ken Griffey Jr.
630
6. Alex Rodriguez-y
626
7. Sammy Sosa
609
8. Jim Thome-y
596
9. Frank Robinson
586
10. Mark McGwire
583
Instead, the hype doesn't seem to be building nearly as much as it should. Maybe it's because Thome's home runs are pretty spread out now. As he moves into a more limited role, he only has seven this season. Thus, if we hype every single game, we might be waiting through upwards of 100 games in anticipation. That would be exhausting. Maybe the hype gets close to the hype for Jeter once Thome hits No. 599. We'll see, but I suspect it won't get anywhere close.
Now, don't get me wrong. I'm part of the media that heavily hyped Jeter's quest for 3,000. If you saw the traffic numbers the Jeter stories drew compared to other stories, you wouldn't blame us. It's New York. It's Derek Jeter. It's a huge milestone. That gets numbers. Plus, I quite admire Jeter. I admire how he's played all these years in the spotlight and drawn nothing but respect from his peers. He's rarely been involved in much controversy, and that's a pretty tough task for 15 years as the face of the sport's most recognizable franchise. So please don't misconstrue this as a complaint against the Jeter coverage. It's far from it. Jeter deserved his coverage.
But take away the New York spotlight element and you could say many of the same things about Thome. In fact, you could say better things. Not only do you never hear an ill word about Thome as a teammate or an opposing player, but he's won the both Roberto Clemente and Marvin Miller Man of the Year awards for his character, sportsmanship and community involvement. He has or will be reportedly putting all 10 of his nieces and nephews through college (
Star-Tribune
).
On the field, Thome's probably been underrated throughout his career. Despite regressions as he's aged -- he's 40 now -- he still has a career on-base percentage of over .400 (the seventh-highest active mark). His 1,646 RBI place him 28th all time. Why did he only make five All-Star teams and finish in the top 10 of MVP voting four times? Well, because his prime was during the juice era. And as far as all the evidence says, he didn't juice. And there's something to be said for longevity. He hit 25 home runs in just 276 at-bats last season. His prodigious 596th homer shows he still has the power.
Simply put, if you want a true All-Star both off and on the field, you need not look further than Thome. And he's nearing a milestone only a handful of guys have ever done without legitimate accusations of impurity.
Maybe it's because he's playing in a smaller market than New York. Maybe it's because he's bounced around a lot in his career and there isn't one fan base claiming him as their own. Maybe it's because some feel he's just a stat compiler -- which is ridiculous, by the way, since only seven guys have ever compiled this many homers. Or maybe it's just that we're waiting until he gets closer.
Whatever the reason, we need to rectify it. Jim Thome is close to hitting his 600th career home run. He deserves much more of our attention.
For more baseball news, rumors and analysis, follow @cbssportsmlb on Twitter or subscribe to the RSS feed.