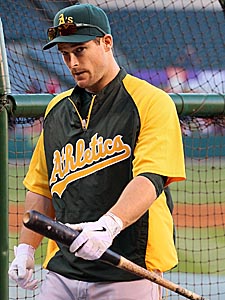 By Eye on Baseball Team
Baseball's trade deadline is just 13 days away. The rumor mill is certainly spinning, but we've only really seen one big move -- the
Brewers
acquiring
Francisco Rodriguez
. In the upcoming days we'll take a glance around baseball and sort out what we can expect to see from each major-league team. First up, the AL West, a division that saw several deadline deals last season, including an intradivisional
Cliff Lee
deal (though that happened in early July). It doesn't appear the landscape is ripe for another blockbuster like that, but let's dive in.

Texas Rangers
Status:
Buyers
Upgrade needed:
Pitching, both starting and relief.
Possible matches:
Padres
,
Marlins
,
Nationals
, A's,
Mariners
Notes:
If the Rangers continue to win at this pace and create big separation in the AL West -- they're currently up four games and have won 11 in a row -- they won't feel the need to make a big splash. They have reportedly talked to the Marlins about pitching, with
Anibal Sanchez
,
Ricky Nolasco
and
Leo Nunez
as possibilities (
Jon Paul Morosi of Fox Sports
).
Danny Knobler of CBSSports.com reports
, however, that the Marlins aren't going to move Nolasco or Sanchez. Evan Grant of
Rangers Blog
reports the Rangers are interested in
Heath Bell
,
Mike Adams
,
Andrew Bailey
and
Brandon League
-- though Susan Slusser of the
San Francisco Chronicle
says the A's would have to be overwhelmed to move Bailey, since he's under team control until 2014.
Ken Rosenthal of Fox Sports
also has the Rangers in on Bell, Adams, Bailey and throws in
Tyler Clippard
of the Nationals. Buster Olney of ESPN says the Rangers are the "leaders" in the Bell/Adams sweepstakes. I'd expect the Rangers to do whatever it takes, within reason, to get to the World Series again.

Los Angeles Angels of Anaheim
Status:
Frugal buyers
Upgrade needed:
Could use more pitching and another bat.
Possible matches:
They'd have to shed payroll first, so none at this point.
Notes:
Thanks to several high-priced acquisitions in recent memory (
Vernon Wells
, c'mon down!) the word is the Angels don't want to increase the payroll -- even though general manager
Tony Reagins denies that assertation
, there's evidence to suggest it. So, while they'd probably like to upgrade several areas -- coincidentally, an upgrade over Wells would be nice -- there won't be much flexibility. Expect the Angels to make minor trades at the absolute maximum.
UPDATE:
Rosenthal reports
Aramis Ramirez
is on the Angels' wish list, but that Ramirez still has no intention of waving his no-trade clause for anyone --
at least until after July 31
. This is interesting on several levels. Going after Ramirez would completely contradict the notion that the Angels aren't adding payroll. Not only is Ramirez making a pretty penny this season, but a trade would cause a $16 million option for next season to vest. Also, Ramirez's insistence on not leaving starts to make you wonder if he knows the
Cubs
will pick up his option after the season.

Seattle Mariners
Status:
In limbo, but probably sellers.
Players available:
Doug Fister
,
Jason Vargas
,
Erik Bedard
, Brandon League.
Notes:
We can't really be sure how things stand just yet. The Mariners were all set to be buyers and were reportedly interested in upgrading the offense, for example. But they've now lost nine in a row and -- teamed with the Rangers' winning streak -- that has buried them. I can't see a reason to move
Felix Hernandez
, and the Mariners won't, but some are sure to speculate about him. Just take those "rumors" with a grain of salt. All-Star reliever Brandon League could fetch a decent return and, when the Mariners decide to start selling, Bedard seems like a name that could be involved in any trade talks.
Knobler also reports
that Vargas and Fister are available -- and points out Hernandez and
Michael Pineda
are not.

Oakland Athletics
Status:
Sellers
Players available:
Josh Willingham
,
Coco Crisp
,
David DeJesus
,
Conor Jackson
and
Michael Wuertz
. Probably several more, too.
Possible matches:
Pretty much any buyer.
Notes:
You have to figure at least three of the above players are shipped somewhere. Things will probably go down to the wire, as none are huge difference makers and will probably be last resorts on July 31. Willingham could go sooner, as he's being dangled, it's just that not many teams are overly excited about him. The
Pirates
are said to be in on him, but could be
setting their sights higher
on
Hunter Pence
.
For more baseball news, rumors and analysis, follow @cbssportsmlb on Twitter or subscribe to the RSS feed.