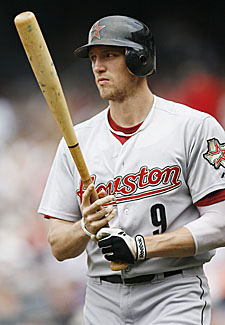 By Matt Snyder
As the
Ubaldo Jimenez
speculation fire continues to burn, we now have our next hot trade rumor: The
Pirates
have scouted
Hunter Pence
(
PittsburghLive.com
). Pence is hitting .321 with 11 homers, 61 RBI and an .852 OPS. He also has a great throwing arm,
as we saw in the All-Star Game
.
Now, just as with the Jimenez talk, let's not get carried away here. Scouting a player doesn't mean the teams have exchanged names or will ever talk about a trade. It's just the first of many steps. Still, this could make sense for both teams.
The best argument for the
Astros
to keep Pence is that they need to rebuild around someone and he's their obvious best player. You can say he's young, but he's 28. The Astros aren't anywhere near contention, so he could be 31 (or older) before they're ready to make a run at the NL Central again. Why not deal him and get a big prospect package back? I feel like that would make more sense, because the likes of
Carlos Lee
and
Brett Myers
aren't landing much in return at this point. Pence and
Wandy Rodriguez
are the ones who need to be moved in an effort to start the rebuilding process.
As for the Pirates, first of all, it's pretty cool to see them as buyers. Variety can be good and the Pirates fans have suffered for quite a while. But let's talk baseball.
There are more pressing needs than right field for the Pirates. Shortstop and third base are weak -- unless Pedro Alvarez all of a sudden is promoted and explodes -- and
Lyle Overbay
could be upgraded at first. A catcher upgrade would help, though there aren't really many, if any, good ones available. Some extra help in middle relief couldn't hurt either. But if the Pirates could get a star like Pence, it would enable them to move
Garrett Jones
to first and it does strengthen the lineup as a whole in a pretty big way. Plus, Pence still has a decent chunk of his prime left and the Pirates' cornerstones would be a duo of outfield stars with Pence and
Andrew McCutchen
.
So, yes, this feels like a move that could benefit both teams, but that doesn't mean it's going to happen or is in the works. Just a rumor, for now.
For more baseball news, rumors and analysis, follow @cbssportsmlb on Twitter or subscribe to the RSS feed.