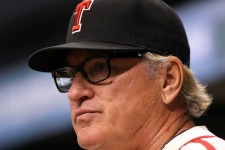 By C. Trent Rosecrans
There are many reasons I like Tampa Bay's Joe Maddon and think he's one of the absolute best managers in the game -- but two of the biggest are his original thinking and his willingness to speak his mind, even if it's a little controversial.
Sunday he was asked about the accusations by the Yankees that the Blue Jays are stealing signs. Maddon said he was all for "traditional sign stealing."
From the St. Petersburg Times:
"I'm all for stealing a third-base coach's signs or if a manager is not hiding his signs to whomever or if a catcher goes out, whatever, those signs are there to be stolen," Maddon said. "That's part of the game. Utiliziing technology to do that I think is inappropriate. … That's bad form, I don't agree with that. I love a good sign-stealer, that's my kind of guy. … The other stuff is purely cheating and definitely does not have a part in the game."
One of the many beauties of baseball is the fine line between gamesmanship and cheating -- and Maddon's right, sign stealing can be on either side. For the record, Maddon said he didn't think the Jays were using binoculars or electronic devices to steal signs -- "We have not thought [that] this year," Maddon said.
For more baseball news, rumors and analysis, follow @cbssportsmlb on Twitter or subscribe to the RSS feed.