By C. Trent Rosecrans
The Cubs have been bad enough this season without help -- but they got it on Sunday when second base umpire Lance Barrett erred when calling Marlins runner Brett Hayes safe on Kerry Wood's pickoff throw.
The game was tied at 4 with two outs in the eighth when Wood tried to pick Hayes off. With a correct call, the Cubs are out of the inning. However, afterward Emilio Bonifacio hit an infield single to load the bases before Wood walked in a run and then gave up a two-run single to Logan Morrison.
After the game, Mike Quade went off (from the Chicago Tribune):
"I don't make a lot of excuses," Quade said. "I probably could have got run two or three times in this series alone. Thrown out three times, young manager, all that crap. But it's getting tough to watch some of this.

"I have all the respect int he world for [umpires]. We've heard a lot of [negative] comments lately and I've tried to stay out of it, but there were a couple of calls in this series that were mind-boggling -- and were crucial and huge. Not just two out and nobody on stuff.

"And [there were] some comments made [by umpires] and other stuff that irritated me."
Wood agreed, calling the call "terrible." According to the Tribune he added: "He's right on it, right there on top of it, and he butchered it."
Expect a fine for both -- even though they were right. Check out the screengrab from MLB.tv below: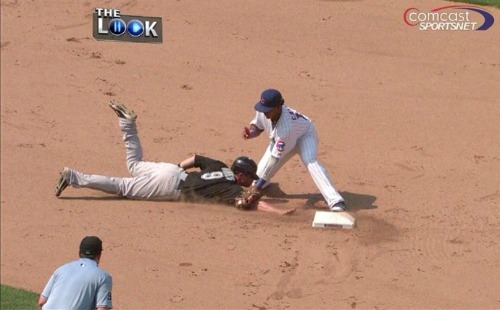 For more baseball news, rumors and analysis, follow @cbssportsmlb on Twitter or subscribe to the RSS feed.