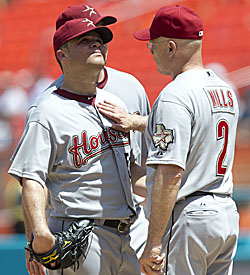 By Matt Snyder
While the team tied for first in the NL Central looks to make history in a good way, the team at the bottom of it is so dreadfully bad that there's a chance it joins select company.
A loss Friday night for the Houston
Astros
marked their fifth straight. They're 7-29 since June 2, 3-18 since June 18 and have only won once in their last 11 games. The overall 30-63 record is the worst in the majors by a couple of series' worth of games and is on a pace to go 52-110. No one has lost more than 105 games in a season since the 2005
Royals
. That's pretty awful, but things could easily get worse.
First of all, they're playing far worse baseball than they were earlier in the season. Secondly, the trade deadline is looming, and general managers of teams in contention will certainly be placing calls to the Astros in hopes of landing one of the few good players the Astros have -- such as
Hunter Pence
,
Michael Bourn
,
Wandy Rodriguez
, etc. -- and they're likely to listen.
As I alluded to above, the Astros' current pace is terrible, but it's not yet definitively, historically bad. Dipping below .300 winning percentage -- the current mark is .323 -- would be. Only 21 teams in major-league history have dropped below .300, and it's happened just one time since 1962: The 2003
Tigers
. That Tigers team was 43-119. Also, only 11 teams since 1900 have lost 110 times in a season.
So this season's Astros ballclub is threatening to become the second-worst team since the 1962
Mets
(an expansion team) and one of the 22 worst of all-time. And the Astros have been playing .194 ball for the past six weeks.
It's certainly something to keep an eye on as we move deeper into the season.
For more baseball news, rumors and analysis, follow @cbssportsmlb on Twitter or subscribe to the RSS feed.