By C. Trent Rosecrans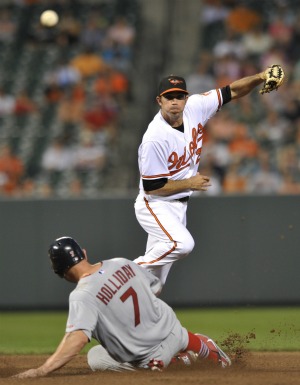 There's been plenty of talk recently about an extension for Orioles shortstop J.J. Hardy, but still no deal. However, Hardy would like to see the job done, he told the Baltimore Sun.
"My thought is that I still hope it gets done," Hardy told the newspaper. "I know my agent and [Orioles director of baseball operations] Matt Kelntak have been talking. I don't know exactly where they are at or what they are thinking. If it gets done or not before the trade deadline, I don't know what their thoughts are. But I still say I hope it gets done."
According to the Baltimore Sun, the two sides are working on a three-year extension worth between $7 million and $8.5 million a year. Hardy said he'd like to have at least a partial no-trade clause in his contract.
If the two sides don't agree, the free-agent-to-be could be dealt at the deadline. He'd certainly be a valuable piece to a contender -- his old division, the National League Central, is full of teams in dire need of an upgrade at shortstop.
If the Orioles keep him, he could either re-sign with the team or they could hope he qualifies as a Type A free agent, offer him arbitration and receive two draft picks. If he's resigned to a three-year deal, he'd likely hold that spot until the team's top prospect, 19-year-old shortstop Manny Machado, is ready to take over full-time.
For his part, Hardy says he'd like to stay in Baltimore.
"I see a pretty good lineup. I see a lot of pieces, like [Matt] Wieters, Adam Jones, [Nick] Markakis. If Brian Roberts can stay healthy, that's five pretty good guys that are filling up the field," Hardy said. "The pitchers, I feel like you see potential. Everyone sees potential. They are young, and another year under their belts will do wonders. … And I do believe Andy MacPhail, Buck [Showalter] and Peter [Angelos] are doing everything they possibly can to make this a winning team. That's something I have to believe and go from there."
In his first season with the Orioles, Hardy's hit .277/.336/.496 with 13 home runs -- already more than doubling his total in that category from last season in Minnesota.
For more baseball news, rumors and analysis, follow @cbssportsmlb on Twitter or subscribe to the RSS feed.