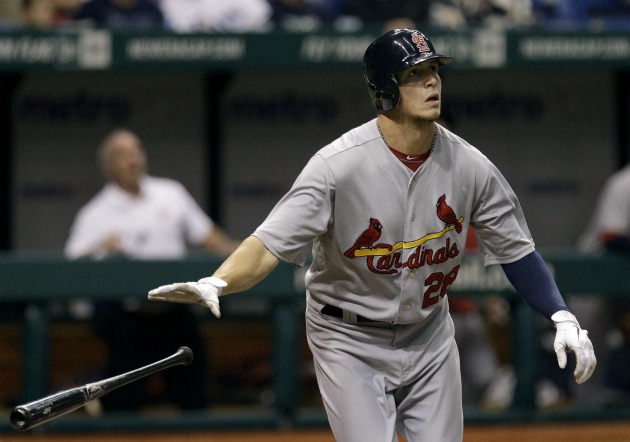 By C. Trent Rosecrans
Another year, another year of Colby Rasmus trade rumors.
Last year it was that the talented center fielder couldn't get along with Tony La Russa, this year it's that he's an underperforming malcontent that can't get along with his teammates.
The Cardinals jettisoned Brendan Ryan for that sin, but Rasmus is a better all-around player and it sounds as if St. Louis general manager John Mozeliak intends to keep him, he said as much to The Sports Edge show on Sports Radio 1380-AM in St. Louis:
"We're not trying to move Colby Rasmus, I can be very clear on that," Mozeliak said on Friday. "As you can imagine when you have the type of job I have, people call you all the time about what players you may move. There's no doubt that Colby seems to be a player that gets a lot of attention here in St. Louis and I can understand why, there's not a whole lot of incentive to move him at this time. Now, if there's a deal that made sense and we really felt it was a win, then we'd consider it. But overall, we're not actively shopping him unlike some people would want you to believe."
There's no reason to trade Rasmus now. At 24, Rasmus is still learning to be a big leaguer. He's in just his third year in the big leagues and is under team control through 2014.
Rasmus is certainly underachieving, hitting .246/.329/.413 -- all numbers well below the rates he put up a year ago (.276/.361/.498). He's hit nine home runs and stolen five bases, slightly behind last year's pace. However, he's improved his strikeout rate (20.3 percent) from a year ago (27.7 percent), while his walk rate has dropped a little, but not too much (from 11.8 percent to 11.1 percent). His batting average on balls in play is down (from .354 in 2010 to .291 this season), explaining some of the drops in his batting average and OBP.
Trading him now would be selling low. Rasmus has more than enough talent that moving him for a middle-of-the-rotation starter would be beyond idiotic.
Mozeliak did say the team is looking for a left-handed reliever and overall depth on the pitching staff, whether it's a reliever or starter.
"Unfortunately there are so many teams in this thing and everyone's looking for the same thing, it will be difficult to pull off," Mozeliak said.
So don't expect him to deal Rasmus for that relief, although he did note he could always be swayed if a team gave up enough.
"When I talk about prospects in general, I try never to use the phrase 'untouchable' there's always a deal that would make you want to move somebody, that's just natural," Mozeliak said. "There are players that unless you're blown away, you're not going to make a move."
And that player is Colby Rasmus.
For more baseball news, rumors and analysis, follow @cbssportsmlb on Twitter or subscribe to the RSS feed.