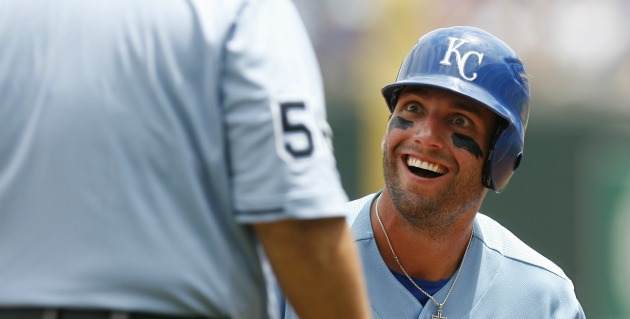 By C. Trent Rosecrans
If you're a Royals player and not really cheap and under team control for several more years, you know that come July there will be trade talk.
With a loss to the Twins on Thursday, Kansas City is now 37-56 and 12 games behind the Indians in the American League Central. That means someone's not going to be wearing royal blue for long.
Last year the Royals dealt Kyle Farnsworth, Rick Ankiel, Alberto Callaspo and Scott Podsednik before the July 31 deadline. This year, they could move several players, including outfielder Jeff Francoeur, lefty Jeff Francis and outfielder Melky Cabrera.
The one thing that's different this year is that Francoeur doesn't want to go. Francoeur has a mutual option for $4 million next season.
"People keep asking me about it," Francoeur told the Kansas City Star's Bob Dutton. "And what I say is I'm sure if a team came to the Royals and overwhelmed them [with an offer] for me or Melky, they'd probably have to do it. But you know what? I think a lot of us will be here."
Francoeur has been traded during each of the last two seasons -- from the Braves to the Mets in 2009 and from the Mets to the Rangers last season.
"Let's say you trade me and Melky, you're just starting over," Francoeur said. "If you're trying to build something to go to the next level, at some point you've got to make a stand and keep guys."
That said, are Francoeur and Cabrera really the guys you keep around? Neither player is the long-term solution. When the Royals talk about their future and their possible contention in 2013 or 2014, it's not Francouer or Cabrera that is expected to be in right field, it's 20-year-old Wil Myers, currently in Double-A, who should be manning right at Kauffman Stadium.
Francoeur is a talented player, but he's hardly a first-division starter. This year he's hitting .265/.308/.443 with 12 home runs and 56 RBI, pretty much typical Francoeur numbers (he's a career.268/.310/.427 hitter). Cabrera is hitting .293/.332/.455 with 11 home runs and 51 RBI, nearing career-best numbers all-around. Cabrera is just 26 and under team control through next season.
The team may want to keep one of the two around to play right with Alex Gordon in left and Lorenzo Cain in center field next season. That said, if there's a decent offer, neither Francoeur or Cabrera is irreplaceable -- they're both in Kansas City for a reason.
For more baseball news, rumors and analysis, follow @cbssportsmlb on Twitter or subscribe to the RSS feed.