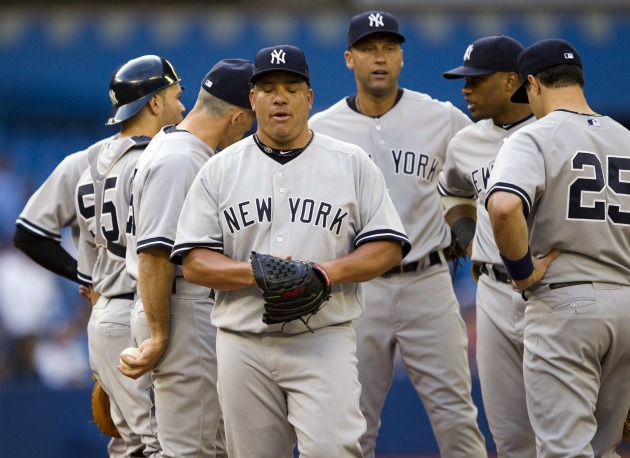 By C. Trent Rosecrans
Has Bartolo Colon's magic worn off?
In his first start of the second half, the Yankee right-hander turned in a stinker, his second in a row. Colon gave up six hits and eight runs -- three earned -- in just 2/3 of an inning against the Blue Jays on Thursday before being replaced by Luis Ayala, who didn't help matters when he balked in a run to give Toronto a 9-0 lead after just one inning.
Colon walked two -- he was averaging just 2.2 per nine innings before Thursday -- and didn't strike out any, throwing 42 pitches to get two outs. Well, actually, he used fewer to get two outs, as seven straight Blue Jays reached with two outs before Colon was lifted.
Several Yankee beat writers speculated on Twitter that Colon could still be dealing with a hamstring injury, something that's not out of the realm of possibility. Colon went on the disabled list last month with a strained left hamstring and didn't look good coming off the mound to try to field two balls hit back at him by Rajai Davis and Yunel Escobar -- not that the 38-year old, 265-pounder (that's his listed weight) ever looks too good coming off the mound.

After the game, Colon told reporters he had no pain, but was tentative on his hamstring.

"I feel good, but sometime I feel a little bit nervous," Colon told reporters through an interpreter, according to the New York Times. "I'm afraid to push."
After coming off the disabled list, Colon pitched six scoreless innings against the Mets on July 2 and then picked up the loss in 5 2/3 innings against the Rays that lifted his ERA from 2.88 to 3.20. Thursday's outing put his ERA at 3.47, with thanks to third baseman Eduardo Nunez's error on J.P. Arencibia's grounder that loaded the bases with two outs.
Now, two bad outings happen -- it's not exactly unheard of for a pitcher to struggle at this point of the season. But Colon wasn't in baseball last season and was 14-21 with a 5.18 ERA over his last four seasons before missing 2010, so it's natural to wonder if he will regress to the mean. The Yankees are covered; Phil Hughes has returned to the rotation (with his rediscovered fastball) and Ivan Nova is in the minors just in case someone else in the rotation goes down.
Even if all Colon does is give the Yankees a great first half (6-4, 3.20 ERA), he will have been one of the best signings of the season. (He signed a minor league contract in January that pays him just $900,000 this season.) For the Yankees, $150,000 a win is like ordering off of the dollar menu. Last year the team paid $1,095,238.10 for each of CC Sabathia's 21 wins and $1,650,00 for each of A.J. Burnett's 10 victories. Between Colon and Freddy Garcia's $1.5 million contract, the Yankees could have appeared on Extreme Couponing with their bargain hunting -- even if they were stocking up on boxed macaroni and cheese to put in the pantry at their beach house.

For more baseball news, rumors and analysis, follow @cbssportsmlb on Twitter or subscribe to the RSS feed.