By Evan Brunell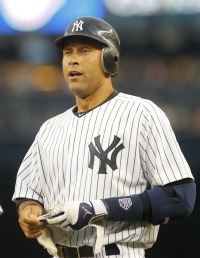 Previous reports had
Derek Jeter
missing the All-Star Game because he was
exhausted from chasing 3,000 hits
, but Jeter said on Thursday that wasn't the case.
"It wasn't an exhaustion thing, it was an injury thing," Jeter told ESPN New York.
"I hadn't heard about it until someone told me it was all over TV on Tuesday," Jeter added. "I guess I was surprised, is the best way to put it, on the coverage. I understand disappointment. I get that. I understand that fans are disappointed.
"Like I told you guys, I was disappointed I didn't get a chance to go play. I've told you guys throughout the years, but this was a decision that I thought was best for our team for the second half of the year."
It seems like Jeter's missing the point here. It's completely understandable why Jeter didn't want to play in the game. Even if he was emotionally exhausted (a point he thoroughly debunked), everyone would have understood. What appears to be the issue, however, is that Jeter didn't even show up in a ceremonial capacity. If he had, the uproar over Jeter not playing would have been muted, if not non-existent. Baseball, the media and fans wanted Jeter at the game to celebrate his milestone.
Nevertheless, Jeter said that the break has helped.
"(Joe) Girardi wanted to give me days off when I first came back, so it was difficult for me to play in the games [with the Yankees,]" Jeter said. "When I got hurt, everyone was telling me how difficult an injury it is and it takes until the offseason. It is serious -- you don't want to come back too soon. I decided to take some days off to help out and turned into this. The days helped."
For more baseball news, rumors and analysis, follow @cbssportsmlb on Twitter or subscribe to the RSS feed.