By Evan Brunell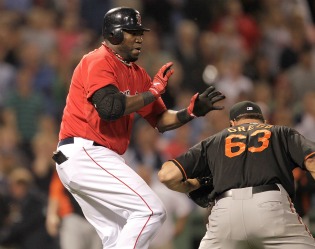 Suspensions and fines were handed down on Thursday for the
Red Sox
-Orioles brawl
just before the All-Star break
, with aggressors
Kevin Gregg
of Baltimore and
David Ortiz
of Boston receiving four games apiece. Gregg's suspension is set to begin Thursday and Ortiz's on Friday unless they appeal, which is expected.
Gregg, the closer, threw three inside pitches to Big Papi in a telegraphed attempt to hit him. Ortiz vented his displeasure after the third high pitch, then flew out. Gregg informed Ortiz not so nicely to run the ball out and then head back to the dugout, at which point Ortiz charged the mound and sparked a bench-clearing incident.
"I'll let the process go out," Gregg, told the Associated Press, adding that the fine was a significant number. "The four-game is a pretty hefty suspension. I get the right to meet in New York with some people, tell them how it went down, what happened, get to say my side of the story."
Orioles
reliever
Mike Gonzalez
was also suspended three games for intentionally throwing at Ortiz two games later, while the Red Sox's
John Lackey
was fined for intentionally throwing at
Derrek Lee
Saturday. Catcher
Jarrod Saltalamacchia
of the BoSox and reliever
Jim Johnson
of Baltimore were also fined for their actions.
"I definitely think they need to go back and do their homework," Gonzalez said, displeased with the league officials' decisions. "I think they need to go back and go through the whole series as opposed to just going through one game and seeing how everything fell into place."
Skipper Buck Showalter will sit out Thursday's game as he was suspended one game for Gonzalez's actions. He is unable to appeal.
For more baseball news, rumors and analysis, follow @cbssportsmlb on Twitter or subscribe to the RSS feed.