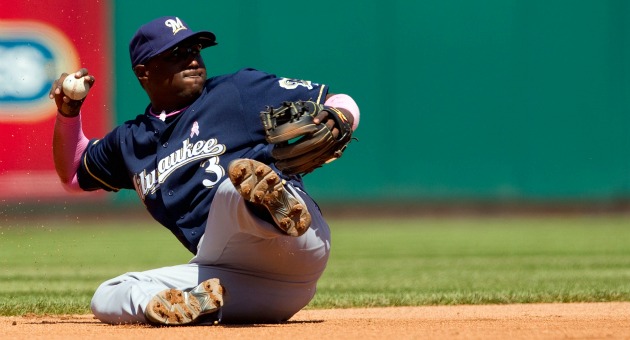 By Evan Brunell

WHAT'S NEXT?
Now that the
Brewers
have traded for
Francisco Rodriguez
and beefed up their bullpen, what's next?
Anyone who has been keeping tabs on Milwaukee can tell you that a shortstop and third baseman are next on the list.
Yuniesky Betancourt
hasn't been a competent hitter or fielder for years, yet continues to hold down a starting job; if Milwaukee can find a replacement, Betancourt will be sent on his way. Third base was supposed to be populated by
Casey McGehee
, who drove in 100 runs last season. Alas, he's been terrible offensively, which has shined a spotlight on his below-average defense.
Ken Rosenthal of Fox Sports
indicates that the Brew Crew is indeed pursuing left-infield help as the club makes a run for the postseason in
Prince Fielder
's final season.
Rosenthal brings up
Dodgers
infielder
Jamey Carroll
, who is having one of his best big-league seasons at age 37, but he hasn't been made available yet. If Baltimore's contract extension with
J.J. Hardy
falls through, the Brewers could look into re-acquiring their former shortstop. Also linked to the team is
Royals
third baseman
Wilson Betemit
, but he wouldn't really be a significant upgrade over McGehee.
Who else could be had? Well, Houston is solidly out of the postseason chase and has been dangling
Jeff Keppinger
for some time. The
Marlins
could move out free-agent-to-be
Omar Infante
and if the
Padres
throw in the towel,
Orlando Hudson
and
Jason Bartlett
would certainly be options.
There's no sliver bullet available here unless GM Doug Melvin has a magic trick up his sleeve, but there won't be that much trouble upgrading from McGehee and Betancourt. They've been poor enough on both sides of the ball that even an all-glove, no-hit player would outproduce these players.

DONE WITH TWITTER?
Sounds as if
Orioles
center fielder
Adam Jones
may be done with Twitter; no word on why. (
@SimplyAJ10
)
UPPER DECK CLOSING
: The Marlins are following in the footsteps of the A's, who closed the upper deck of the stadium several years ago. Now, Florida is following suit as the paucity of people in the upper deck did not justify cost of ushers, personnel, concession stands and the like. (
Miami Herald
)
JETER MARKET HOT
: Other than the World Series victories, Steiner Sports says the rush to get memorabilia for
Derek Jeter
's 3,000th hit is like never before. "It's like a mini-World Series," Mitchell Modell of Modell's said. (
New York Times
)
CHISENHALL OK
:
Indians
prospect
Lonnie Chisenhall
was recently promoted to the majors and took a fastball off the face for his trouble. Now that the All-Star Break is past, Chisenhall thinks he's ready to play again despite a nasty bruise. (
MLB.com
)
WASHINGTON OR NEW YORK
: It looks as if J.C. Romero will be in the majors at some point over the next couple of weeks. Released by the
Phillies
, the left-handed reliever plans to opt out of his contract with the
Nationals
by Friday if they don't promote him. In that case, he's headed to the
Yankees
. (
ESPN MLB
)
STOW PART OF BANKRUPTCY CASE
: The family of Brian Stow, currently suing the Dodgers for culpability in the beating that left the
Giants
fan in a coma, has been named as a representative creditor in the bankruptcy case. Along with four other parties, the Stow family will represent unsecured creditors as owner Frank McCourt tries to navigate bankruptcy court.
FINALLY AN ALL-STAR
: Kirk Gibson turned down two opportunities to participate in the All-Star Game as a player, much to his father's chagrin. But the former baseball standout finally went to his first All-Star Game when he joined Giants skipper Bruce Bochy in Phoenix as a coach. (
MLB.com
)
BAD BUCK
: Joe Buck's lousy calling of the All-Star Game was making waves as it happened, and now a sports-radio personality blogs his take. In short: It's time for Buck to go away until his voice is fully healed. (
Detroit Free-Press
)
PERSONALITY CHECK
: It's always nice to learn more about Yankees players outside of the game, and there's plenty of information here. For example,
Sergio Mitre
grew up fighting in the streets of Tijuana, Mexico and no Yankee would want to be without the reliever if they were in a fight. And surprisingly,
Bartolo Colon
would win an arm-wrestling match. (
Wall Street Journal
)
For more baseball news, rumors and analysis, follow @cbssportsmlb on Twitter or subscribe to the RSS feed.