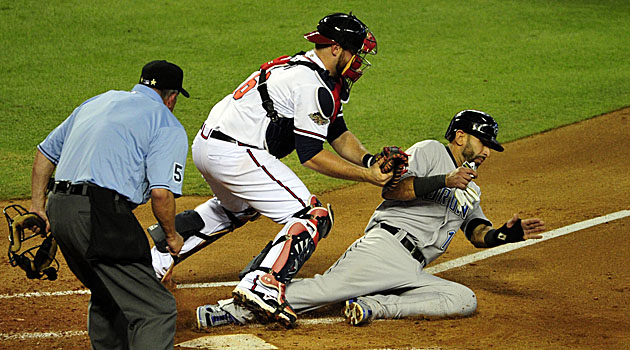 By Matt Snyder
PHOENIX - One quick note: We're not going to use
Prince Fielder
or
Roy Halladay
as "up" guys because they have separate stories up on them. We'll spread the love a bit.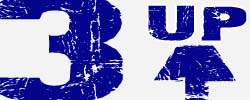 Hunter Pence, Astros.
Pence had a single and scored a run, but that's not why he's here. In the top of the fourth,
Adrian Beltre
singled to left.
Jose Bautista
was on second and was sent home to score. Pence apparently didn't like that because he cut Bautista down easily at home with a perfect strike (see above). It didn't even bounce. That throw was the highlight of the night for me.
Heath Bell, Padres.
The Padres closer only faced one hitter, but he got his jersey dirty. That's because Bell came sprinting out of the bullpen in
Todd Coffey
fashion. But when Bell got to the infield, he slid into the infield grass. He even left a huge divot. He was having fun and, dammit, that's what this game is all about. And he did retire the one hitter he faced, too, as
Jhonny Peralta
popped out.
Starlin Castro, Cubs.
The youngest player in the game made his All-Star debut when he pinch-ran at first base for
Troy Tulowitzki
. Castro made the most of his opportunity, as he stole second and third. It made him the first player to steal two bases in the Midsummer Classic since Kenny Lofton in 1996. We'll just forget about that pesky strikeout and error.
---
C.J. Wilson, Rangers
. The right-hander was tagged with the loss after allowing three hits and three earned runs in his inning. The big blow of the game -- Fielder's go-ahead three-run blast -- came off Wilson, too.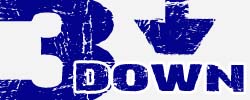 Alex Avila, Tigers.
He gave up three stolen bases in one inning. There were Castro's two, and
Rickie Weeks
also got in on the action. Maybe it was working with an unfamiliar pitcher, but no catcher ever wants to cough up three in one inning.
The fans who booed (which was the majority of the crowd).
Now, before I say more, I'll make sure to lay it all out there so there's no misunderstanding. Fans pay to see the game and have every right to boo if they want. I'm not angry about the fact that the fans booed nearly every player that wasn't a Diamondback. I'm shocked. I just don't get it. The All-Star Game is a chance for your city to see all the best players in the league. Instead, the booing was ferocious, even for players where it made absolutely no sense. I'd suggest these fans lighten up and have fun -- like Heath Bell. And no, it's not like that in any other stadium for the All-Star Game. Fans usually just boo rivals and that's it. Of course, I'm sure lots of people think booing is fun -- the same people who think it's awesome to slander people on Twitter and message boards.
For complete All-Star Game coverage, keep up with Eye on Baseball in Phoenix
For more baseball news, rumors and analysis, follow @cbssportsmlb on Twitter or subscribe to the RSS feed.