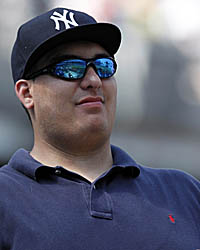 By Matt Snyder
And now we present to you, today's version of "no good deed goes unpunished."
Remember Christian Lopez? He was the fan who caught
Derek Jeter
's 3,000th hit, which was also a home run. He gave the ball back to Jeter without any monetary demands -- and he could have easily made a windfall had he put the ball up for sale. For example, Barry Bonds' 715th home run ball went for over $200,000. But when
Yankees
president Randy Levine asked what Lopez wanted for the Jeter ball, Lopez replied: "How about a couple signed balls, some jerseys and bats." (
New York Times
)
That's it. Obviously, Jeter and the Yankees granted Lopez's request. Lopez even told reporters he owed more than $100,000 in student loans, but felt the ball belonged to Jeter. Of course, Lopez is now likely going to have to pay some pretty hefty taxes on the gifts the Yankees have given him.
Via
NYTimes online
:
The Yankees gave Mr. Lopez four Champions Suite tickets for their remaining home games and any postseason games, along with three bats, three balls and two jerseys, all signed by Jeter. For Sunday's game the team gave him four front-row Legends seats, which sell for up to $1,358.90 each.
With so many home games remaining at those lofty prices, it is estimated that the value of Lopez's coup could be over $50,000, which means he'd owe $14,000 in taxes. If it is determined the Yankees gave these items as an act of generosity -- instead of an exchange of goods -- Lopez wouldn't owe a dime. So it's up to the IRS.
Who would have thought, when Lopez caught the ball and did the kind thing, he may have incurred a $14,000 tax liability.
For more baseball news, rumors and analysis, follow @cbssportsmlb on Twitter or subscribe to the RSS feed.