By Evan Brunell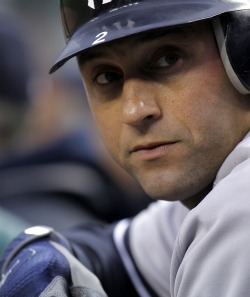 A theme during the press conferences for the All-Star Game that has been going on all day is the absence of
Derek Jeter
.
Many players and coaches were not biting on saying anything negative about Jeter's absence, and
Fox Sports
is reporting that he chose not to join the festivities in Phoenix because of "emotional and physical exhaustion" after his quest for 3,000 hits.
It's not easy to inch closer and closer toward a significant milestone when you play for the
Yankees
, that's for sure. It's hard to blame Jeter, who was playing in virtually every game over the last several weeks minus a brief stint on the disabled list for a calf issue.
"I don't know if [it's an] obligation, but it's one of your duties as a player, out of respect, knowing that there was a guy that really wanted to be on the All-Star team, and his stats were right there, and he would have loved the chance to be here,"
Giants
closer
Brian Wilson
said without referring to Jeter specifically when talking about the volume of players that have opted not to attend or play in the game.
"I would say that you would show up, unless you need these three days to recover. You are representing your team, so it would be good to be here."
A source close to Jeter speculated that if he had reached 3,000 hits earlier, the Yankees captain would have headed to to Phoenix. As it was, however, he would have had to hop a plane the day after reaching the milestone, which he later admitted was weighing on him as he felt pressure to get the hit in Yankee Stadium.
There's really no way for any of us to judge the kind of strain Jeter was under, and given his service to the game both on and off the field, it's difficult to get worked up about Jeter's absence. In his place, plenty of other young, budding stars will get their chance to star and carry the game forward into a new generation.
"
For more baseball news, rumors and analysis, follow @cbssportsmlb on Twitter or subscribe to the RSS feed.