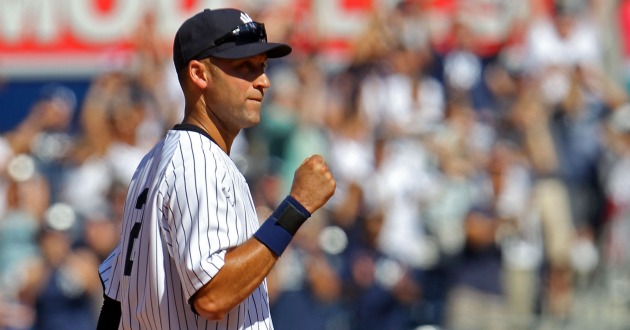 By Evan Brunell
"It didn't take long, huh? One day," Derek Jeter told ESPN New York.
Jeter is referring to a reporter phrasing a question by starting out referring to Jeter's "advanced age."
"I don't pay attention to it," said Jeter, who collected his 3,000th hit Saturday by blasting a home run en route to a five-hit day that pulled his batting average up to .270. "It depends on you guys writing it. We'll end on that note."
While Jeter has been feted -- and rightfully so -- in recent days for earning hit No. 3,000, as a whole, his season ranks as his poorest to date if you throw out his major-league debut year of 1995, when he appeared in 15 games. That's saying a lot, because Jeter's previous worst season came last year when he hit .270/.340/.370 in 739 plate appearances. He's done worse, with a .270/.331/.354 mark in 317 plate appearances entering Sunday's game.
"Is he hitting .320 like he did in 2009? No, he's not," Yankees manager Joe Girardi said, when asked about Jeter's play. "But are you convinced that he can't hit .320 in the second half? That would be my question to everyone in here."
Girardi has been batting Jeter leadoff much of the year after starting him out in the No. 2 hole, then elevating him when Brett Gardner failed to produce in the early going.
"I think that sometimes people are quick to judge on players, and don't always understand what a player's necessarily going through," Girardi said. "None of us understand what it's like to be pursuing 3,000 hits. I think it was George Brett who said, 'The hardest one to get to is 3,000.' And once he got his 3,000th hit, it didn't take him long to get to 3,003.
"I think he's done a decent job in the leadoff position. I would be careful how quick you are to judge him and doubt that he can still do it because of the way he goes about his business."
Girardi made note that Jeter was not driving the ball in April, facts supported by his anemic .272 slugging percentage and sky-high 72.3 percent groundball rate. Jeter has improved since, although the improvement has merely taken him from not being worth a roster spot to simply a punchless, but passable, hitter. His groundball rate has decreased in each of the year's first three months. While it's too early to pass judgment on his power in July, the early returns have been strong.
"I don't think you can necessarily predict exactly what's going to happen after a month of a player's career, after two months," Girardi said. "Maybe a guy makes an adjustment. We've seen a lot of older guys make adjustments and do really well. I just think because it's New York and it's Derek Jeter, everything he does is under a microscope, when maybe if it's a different city or a different player, maybe it's not talked about as much."
Lost in this hubbub is that the Yankees don't exactly have a viable alternative to Jeter. Against left-handers, Nick Swisher could potentially lead off. But Jeter's best success this season has come against left-handers, and there's no reason to drop him in the order. Against right-handers, one could make a case that Gardner could lead off. Since his failed leadoff gambit in early April, Gardner has recovered, but Girardi doesn't want to shuffle the lineup too much -- at least not yet.
In other Yankees news, the Marlins are thought to be shopping reliever Randy Choate, the New York Post reports. Choate, who came up with the Yankees and spent four years with them, is enjoying a fine season as a left-handed specialist, something in demand by the Yankees. Florida is thought to be looking for infield prospects or a cheap major-leaguer.
For more baseball news, rumors and analysis, follow @cbssportsmlb on Twitter or subscribe to the RSS feed.