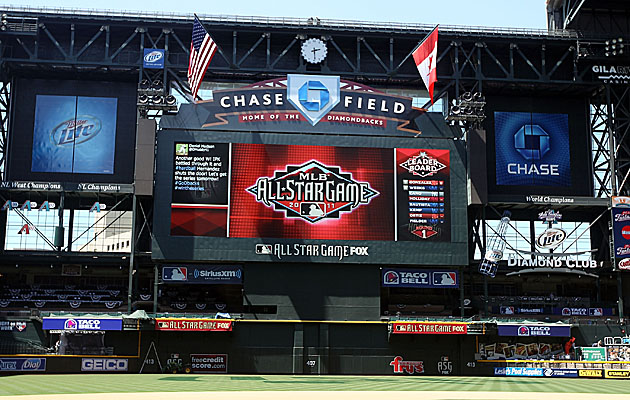 By Matt Snyder
PHOENIX -
White Sox
prospect Dayan Viciedo is hitting cleanup for the World Team in Sunday's Future's Game at Chase Field here in Arizona. The 22 year old has 16 homers in Triple-A so far this season, and we just got a glimpse of the inate power he possesses.
During batting practice, Viciedo hit an absolute moonshot to left-center field. Look at the picture above and I'll give an idea of how far it was. Look at the huge video board and move up and to the left a bit, where you can see the Miller Lite ad. Right below that, look where it says "NL West Champions" and "NL Champions." Yeah, that's where a batting practice ball off Viciedo's bat hit. It's 413 feet just over the fence in that area of the field, so Viciedo's shot had to have approached 500 feet (475 or so? Maybe more?).
Sure, it's only batting practice, but that's still impressive power.
At the end of BP, we'll rank the top three in power displays as: 1. Vicideo, 2. Will Middlebrooks (
Red Sox
system), 3. Bryce Harper.
For more baseball news, rumors and analysis, follow @cbssportsmlb on Twitter or subscribe to the RSS feed.