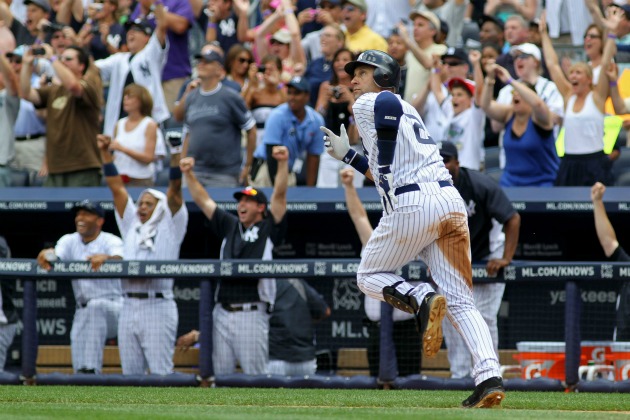 By C. Trent Rosecrans
Derek Jeter became the 28th member of the 3,000 hit club and the fourth-youngest. He also became just the second player in history to hit a home run for his 3,000th hit, joining Wade Boggs.
Watch Jeter's 3,000th hit here.
While Jeter's never been considered a slugger, the home run was the 237th home run of his career. Boggs' 3,000th hit was his 118th and final home run of his career. Boggs
told the St. Petersburg Times
that he wasn't surprised that Jeter hit a homer for his 3,000th hit.
"I pretty much expected it," Boggs told the newspaper. "Because he's Derek Jeter."
Boggs added he didn't expect a routine grounder up the middle: "That's not New York style. You've got to do it with flare."
Boggs was Jeter's teammate with the
Yankees
in 1995 when Jeter recorded his first hit and played with him until 1997. With four hits on Saturday, Jeter stands at 3,002 for his career, eight behind Boggs' mark of 3,010.
It's no surprise that 17 of the 28 members of the 3,000 hit club did it on a single, but Paul Molitor's triple is now even more rare than homers for Jeter and Boggs to reach the milestone. Molitor is the only player in history to triple for his 3,000th hit.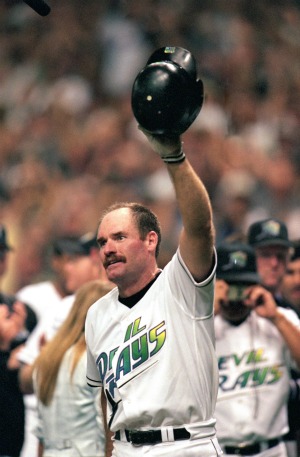 Home run
Wade Boggs
Derek Jeter
Triple
Paul Molitor
Double
Stan Musial
Honus Wagner
Nap Lajoie
Rickey Henderson
Rafael Palmeiro
Al Kaline
Roberto Clemente
Single
Pete Rose
Ty Cobb
Hank Aaron
Tris Speaker
Carl Yastrzemski
Eddie Collins
Willie Mays
Eddie Murray
Cal Ripken Jr.
George Brett
Paul Waner
Robin Yount
Tony Gwynn
Dave Winfield
Craig Biggio
Rod Carew
Lou Brock
It should be noted that nobody is quite sure when Cap Anson got his 3,000th hit because in the 1887 season, walks counted as hits. He also played five seasons in the National Association which is sometimes counted as a "major league," but sometimes it's not. According to MLB.com, Anson has 3,418 hits, while Baseball-Reference.com gives him 3,435 -- both count his time in the National Association and don't count his 1887 walks. The two differ on his total in 1889. Meanwhile, the Hall of Fame doesn't count his time in the National Association, but does count his walks in 1887 for a total of 3,081.
For more baseball news, rumors and analysis, follow @cbssportsmlb on Twitter or subscribe to the RSS feed.