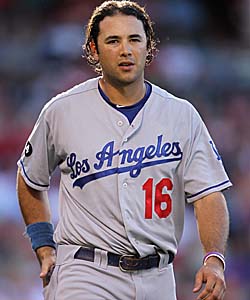 By Matt Snyder
Amid the financial mess the McCourt divorce proceedings have brought to the
Dodgers
, the team is struggling mightily on the field. At least one player,
Andre Ethier
, is fed up with it,
reports Jon Heyman of SI.com
(via
CBS Los Angeles
), using sources "close" with Ethier.
"Andre's a really great guy, but he can be a little moody,'' one person close to Ethier said. "Of all the guys this is going to affect, it's Andre. All the b.s. around the club will affect him more than other players. He's a prideful guy. He's lost respect for the organization.

"He loves L.A.,'' the person continued. "But he wants to play for a winner. And he wants to be associated with a team with positive things surrounding it. Matt Kemp's a guy who won't let it bother him, who'll just say I'll play my game. Andre isn't like that."
One of the teams Ethier might have his eye on is reportedly the
Red Sox
.
"He's got his best buddy Dustin Pedroia telling him how great Boston is,'' one of those people said. "In Andre's mind, [the Dodgers situation] is embarrassing. And Boston has a different [vibe] right now."
That's all well and good, but there are several mitigating factors here.
First of all, Ethier isn't a free agent until after the 2012 season. That means all of this is just speculation, albeit legitimate speculation. Sure, Ethier is probably unhappy and might want to get to a situation that's more promising. After all, he was going through bankruptcy papers this week (via
LA Times
). It's just that he doesn't have that power until after next season. In the meantime, lots of things could change.
For example, what if a Mark Cuban-type owner swoops in and buys the Dodgers and then gives Ethier a huge extension and starts signing other big-name free agents? Then the Dogers start winning and Ethier doesn't want to leave. Remember, even in the quotes above that Heyman collected, the person made sure to say Ethier loves L.A.
Also, Ethier isn't unhappy enough to have taken things to a reporter. This is all from friends of his who are unnamed.
Simply put, if the current situation drags on through next year, the Dodgers have to shed payroll and the McCourts get to keep the team, expect Ethier to walk at the end of 2012 -- if he's not traded before then. If everything clears up and starts looking better, Ethier might very well stick around for a long-term deal.
And at least Ethier got good news Friday. He was
named to the NL All-Star team
.
For more baseball news, rumors and analysis, follow @cbssportsmlb on Twitter or subscribe to the RSS feed.