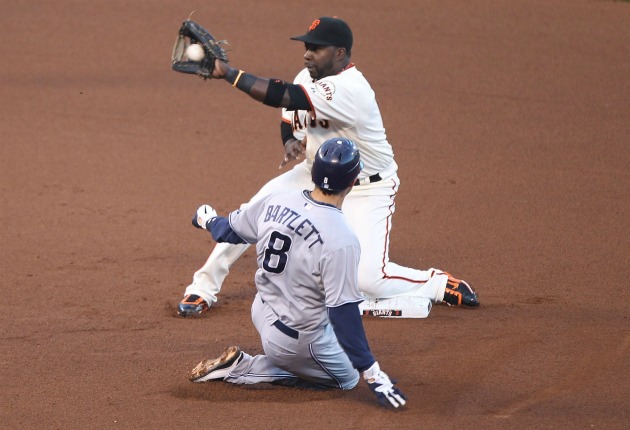 By C. Trent Rosecrans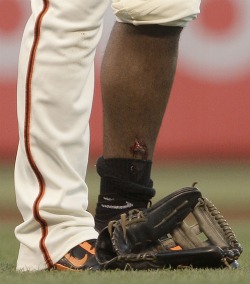 Bill Hall may be headed for the disabled list after getting spiked by San Diego shortstop Jason Bartlett in Thursday's 2-1 Giants victory at AT&T Park, Andrew Baggarly of the San Jose Mercury News writes.
Hall needed seven stitches to close a gash and Hall said the cut went to the bone in his leg.
Bartlett was caught stealing in the fourth, but didn't appear to go high with his spikes, Hall was blocking the bag and got caught by Bartlett's spikes. You can see the play here.
"There's not a lot of skin left to over the wound," Hall told Baggarly. "I knew as soon as it happened. This is the second time in my career I had one. The other time, my kneecap was showing."
The Giants have already used five different second basemen this season, Hall, Freddy Sanchez, Miguel Tejada, Mike Fontenot and Emmanuel Burriss.
Fontenot is currently not he disabled list with strained groin, while Sanchez is likely out for the rest of the season after suffering a dislocated shoulder. Fontenot will not be activated until after the All-Star break, but manager Bruce Bochy told Baggarly "there's no sense of urgency."
Tejada made his first start at the position on Tuesday.
Hall is hitting just .158/.220/.211 in 16 games and 41 plate appearances for the Giants this season. Baggarly writes that Hall is expected to be jettisoned when Fontenot returns. Hall was released by the Astros in June.
For more baseball news, rumors and analysis, follow @cbssportsmlb on Twitter or subscribe to the RSS feed.