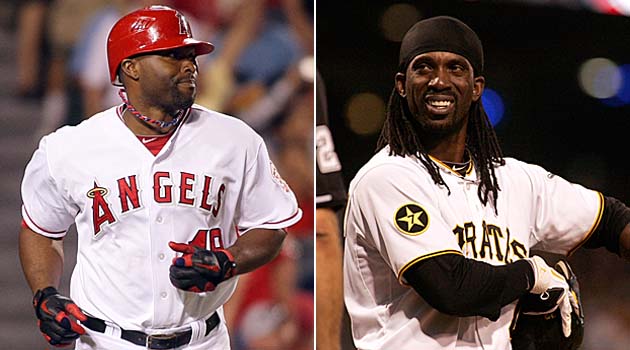 By Matt Snyder
In our ongoing series of more creative All-Star teams than simply going NL vs. AL, we're going to look at some of the players making the most money against some of the players making the least money in the 2011 season. The initial idea was to form a team with players making eight figures (that's at least $10 million) this season against a team with players who make no more than $5 million, but then I felt like I wanted a bigger gap. Plus, if I kept the threshold lower for the high-salary guys, we'd have a veritable repeat of our
old vs. young All-Stars
. If we use $14 million as the baseline for the rich guys and $2 million as the maximum for the less-rich guys, we get two different teams that could be pretty comparable in on-field production in 2011.
High-Salary Team
Catcher
- It's just
Joe Mauer
here, who is taking home a cool $23 million this season.

First Base
- Teams pay for power, so we're choosing from
Mark Teixeira
,
Todd Helton
,
Miguel Cabrera
,
Ryan Howard
,
Prince Fielder
,
Justin Morneau
and
Albert Pujols
. Going on this season alone, Fielder ($15.5 million) is the pick.
Second Base
- Only
Chase Utley
($15,285,714) is above the threshold.
Shortstop
-
Derek Jeter
($14,729,364) is on his own here as well.
Third Base
-
Alex Rodriguez
makes more than twice the minimum to be in this group, so, uh, wow.
Aramis Ramirez
,
Adrian Beltre
,
David Wright
and
Chipper Jones
are all taking home $14-$15 million this year. A-Rod ($32 million) is the pick.

Outfield
- There are 11 here and most -- like
Kosuke Fukudome
,
J.D. Drew
,
Jason Bay
and
Alfonso Soriano
-- are criminally overpaid.
Vernon Wells
is the highest paid outfielder by almost $7 million, too. But we're trying to make a good team, so we'll slide
Torii Hunter
($18.5 million) back to center (there are no center fielders in the group), go with
Matt Holliday
($16,317,774) in left and
Carlos Beltran
($19,325,436) in right.
Designated Hitter
-
Michael Young
($16,174,974) is the only qualifier.
Pitchers
- Only 15 pitchers in baseball make more than $14 million, and
Mariano Rivera
($14,911,700) is the only reliever, so he's our closer. Some of the others are injured (
Johan Santana
) badly overpaid (
Carlos Zambrano
,
John Lackey
,
Barry Zito
) or just too old to make that kind of money (
Derek Lowe
). I decided to pick three starters for this exercise, though, so
Roy Halladay
($20 million),
CC Sabathia
($24,285,714) and
Josh Beckett
($17 million) edge out
Tim Lincecum
($14 million).
Starting Lineup
1. Michael Young, DH
2. Chase Utley, 2B
3. Matt Holliday, LF
4. Prince Fielder, 1B
5. Alex Rodriguez, 3B
6. Carlos Beltran, RF
7. Torii Hunter, CF
8. Derek Jeter, SS
9. Joe Mauer, C
SP: Roy Halladay, CC Sabathia, Josh Beckett
RP: Mariano Rivera
Lots of name recognition, that's for sure. Let's see how the cheap guys stack up.
(Relatively) Low-Salary Team

Catcher
- There are obviously a lot more players making less than $2 million than those making above $14 million, so we're going to keep this succinct. I chose between
Carlos Santana
,
Matt Wieters
and
Alex Avila
. Avila is the pick.
First Base
- Best options were
Michael Morse
,
Gaby Sanchez
and
Justin Smoak
. I'm picking Morse, but it's a toss up.
Second Base
-
Neil Walker
and
Ryan Roberts
were in the mix, but it has to be
Danny Espinosa
.
Shortstop
-
Elvis Andrus
and
Alcides Escobar
(for defense only) were slight considerations, but we're going to
Starlin Castro
here.
Third Base
-
Pablo Sandoval
and
Evan Longoria
are the two best options here. I went with Pablo on the Under-30 All-Stars based upon this season, so we'll flip it up and go with Longoria here, just for the sake of variety.
Outfield
- There are far too many reasonable options to list all of them, but names like
Matt Joyce
,
Jason Heyward
,
Seth Smith
,
Brennan Boesch
and
Colby Rasmus
were on the list of omissions. We're going on 2011 performance, so it's
Carlos Gonzalez
in left,
Andrew McCutchen
in center and Matt Joyce in right.
Designated Hitter:
Of the teams who have an actual, everyday DH, none qualify. It makes sense, as most of those guys are sluggers. So we'll draw from above and it comes down to Sanchez and Boesch. It is, again, a toss up, but we'll go with Boesch.

Pitchers:
There are tons of arms included here, obviously. Names like
Trevor Cahill
,
Gio Gonzalez
,
Ricky Romero
,
Jordan Zimmermann
,
Michael Pineda
,
Justin Masterson
and
Ian Kennedy
are among the best not making the cut. We're going with
Clayton Kershaw
,
Tommy Hanson
and
Alexi Ogando
this time around, though. As for relievers,
Joel Hanrahan
has been perfect on save chances this year, so it's him. He makes it over some young studs like
Jonny Venters
,
Craig Kimbrel
,
John Axford
,
Drew Storen
Jordan Walden
and
Neftali Feliz
.
Starting Lineup
1. Danny Espinosa, 2B ($415,000)
2. Andrew McCutchen, CF ($452,500)
3. Evan Longoria, 3B ($2 million)
4. Carlos Gonzalez, LF ($1,428,571)
5. Michael Morse, 1B ($1.05 million)
6. Brennan Boesch, DH ($430,000)
7. Matt Joyce, RF (426,500)
8. Alex Avila, C ($425,000)
9. Starlin Castro, SS ($440,000)
SP: Clayton Kershaw ($500,000), Tommy Hanson ($456,500), Alexi Ogando ($430,150)
RP: Joel Hanrahan ($1.4 million)
So, what do you think? A lot closer than one would think based purely upon salaries. Obviously there are many, many players excluded -- those who make between $2 million and $14 million a year. I think the high-priced team looks a bit better on paper -- especially with all that power through the middle of the order -- but there are injury and age questions. The low-priced guys would be competitive in a seven-game series and have a more balanced batting order.
For more baseball news, rumors and analysis, follow @cbssportsmlb on Twitter or subscribe to the RSS feed.