By Evan Brunell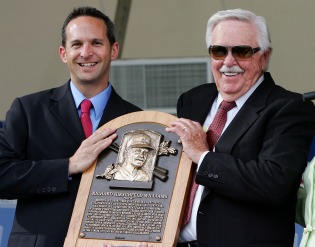 Hall of Fame manager Dick Williams has passed away due to a brain aneurysm, the
Las Vegas Review-Journal
reports.
Williams (photo, right) was 82 years old and had lived in Las Vegas since retiring there in 1991. He had two World Series titles with the
Athletics
in 1972 and '73 and also led the
Red Sox
to the AL pennant during the Impossible Dream year of 1967, the same season Carl Yastrzemski won the Triple Crown -- the last player to ever accomplish the feat.
That was Williams' first season as a manager. He was 38. He spent three years in town and gained a reputation as a no-nonsense disciplinarian, taking over the A's in 1971 and departing after the '73 World Series, moving to a three-year stint with the California
Angels
. The well-traveled skipper then took over the Expos for three full seasons before being fired in the midst of the Expos' stretch drive when his act alienated players.
He then skippered San Diego for four years, winning the NL pennant in 1984, then wrapped up his career with three years in Seattle, retiring at age 59. All told, Williams managed from 1967 to 1988 -- except the 1970 season -- and racked up a 1,571-1,451 record. He is the only manager to win pennants with three different teams. Williams' claim to fame was turning teams into winners, as Boston, Montreal, Oakland and San Diego can attest to.
But that's not all Williams was known for. He played first base, third base and outfield during a 13-season career started in Brooklyn. He eventually moved to Baltimore, Cleveland, Kansas City and ended his playing career with two years in Boston from 1963-64, retiring with 3,265 plate appearances and a .260/.312/.392 line. Early on, he was a bench player, but from 1956-61 he racked up 2,607 plate appearances. His career high for games-played in a season was 130 in 1959.
Williams joined the Hall of Fame in 2008 following induction by the Veterans Committee, and he chose to wear an Oakland cap.
For more baseball news, rumors and analysis, follow @cbssportsmlb on Twitter or subscribe to the RSS feed.