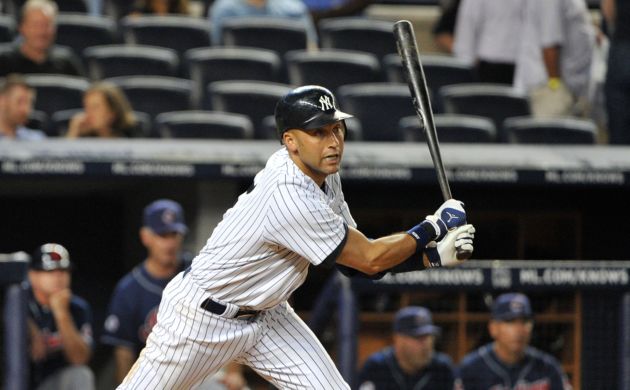 By Evan Brunell
Much to the relief of
Yankees
fans (and the Yankees themselves, although they won't admit that),
Derek Jeter
came through the Cleveland series still shy of hit No. 3,000 although he did narrow the gap to just three away.
Now, Jeter heads home to New York to begin a four-game series against the
Rays
. If Jeter wants to get No. 3,000 before the All-Star Game, it will have to come during those four games. So let's take a look at each opposing pitcher and how Jeter has fared.

Thursday

Facing:
Jeff Niemann
(5.05 ERA, 4.26
xFIP
, 29/12 K/BB in 46 1/3 IP)
Niemann hasn't exactly gotten 2011 off to a great start through nine starts and is the worst of the four starting pitchers that Jeter will face. If he doesn't get at least a hit off Niemann, he'll find the going rough the next few games. The good news is that Jeter rips Niemann, collecting five hits in 10 trips to the plate, adding on a walk and striking out just one. Those are encouraging numbers, and even better for Jeter, Niemann's average fastball velocity is the lowest it has been in the majors at 90.9 mph. A slow fastball is manna for aging hitters.
Friday

Facing:
Jeremy Hellickson
(3.21 ERA, 4.47
xFIP
, 68/39 K/BB in 103 2/3 IP)
Hellickson is a rookie, so Jeter has only faced him twice and collected one hit. In the running for Rookie of the Year, the righty has been very lucky so far even though he deserves to be considered one of the best up-and-coming pitchers. Still, with a below-average strikeout rate and average walk rate, he isn't fooling many batters. While he's benefited from an amazing defense behind him, all Jeter needs to worry about is putting the ball in play. Against Hellickson, he can do that.

Saturday
Facing:
David Price
(3.56 ERA, 2.87
xFIP
, 122/23 K/BB in 124 IP)
It will be hard for Jeter to muster anything against Price, who has been dominating this year. He's stingy with walks and strikes out an average of almost nine batters per game. Helping Cap'n Jetes is the fact that Price is a left-hander. Jeter has always hit lefties far better than righties and that's continued in 2011 as he's mustered just a .245./294/.303 mark against righties, but dominating lefties at .299/.405/.403. In 28 plate appearances against Price, Jeter has a .240 batting average with a double, home run and three walks, but has struck out five times.

Sunday

Facing:
James Shields
(2.47 ERA, 2.87
xFIP
, 132/33 K/BB in 134 2/3 IP)
Shields, the early front-runner for AL Cy Young Award honors, was on a scorching streak in June, registering three straight complete games and a 1.06 ERA over five starts. His first and last start of the month wasn't fantastic, leaving his overall month at an even 3.00 ERA. Still, Shields is a dangerous pitcher, but Jeter has faced him the most of any Rays pitcher by far with 55 plate appearances and a .315/.327/.389 line. He may not walk much or hit for power, but that .317 average bodes well for Jeter's hopes if he enters Sunday still reaching for No. 3,000.
Overall, Jeter has a career .309/.372/.447 line against the Rays, but the vast majority of those at-bats came when the Rays were hapless and Jeter was an elite hitter. That didn't stop him from hitting .301 against Tampa in 86 plate appearances last season, although he did so with no walks or power. Both New York and Jeter have only seen the Rays twice this season thus far and he's collected one hit in nine trips to the plate.
While playing in New York is generally a positive thing for Jeter over his career, it hasn't been so far in 2011. He's slashing .285/.347/.400 on the road, compared to a paltry .234/.301/.262 at home.
Still, with four games on the docket, just three hits away and encouraging numbers against the Rays, Jeter will likely rifle hit No. 3,000 at some point in the series. The only question is which game.
For more baseball news, rumors and analysis, follow @cbssportsmlb on Twitter or subscribe to the RSS feed.