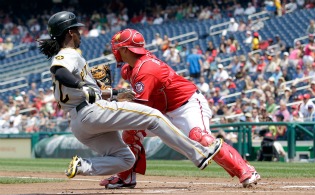 By Evan Brunell
Pirates
manager Clint Hurdle says Bruce Bochy, the manager for the NL All-Star team thanks to winning the World Series with the
Giants
last season, "whiffed" on not selecting
Andrew McCutchen
(pictured) to the team.
New
Marlins
skipper Jack McKeon also spoke out, wondering how Bochy could have justified taking
Tim Lincecum
with a 6-7 record. (Hint to Jack: His ERA is 3.14, and he's pitched better than that figure.)
Understandably, Bochy is a bit bruised from being called out.
"What's bothered me are some comments made from other managers because now you start getting a little personal and [you] disparage other players,'' Bochy told the San Jose Mercury News. "I don't think that's what the game is about."
Bochy also added that he never heard from Hurdle or McKeon before selecting the team, but other managers called to lobby for their players. "The two that are complaining I've known for 25 years," Bochy said. "I didn't hear from them. Sure, that bothers me."
The Giants skipper, who opted to take Mets right-fielder Carlos Beltran with his "at-large" pick instead of McCutchen, called the Pirates star a "great young player," but added that the 24-year-old's recent hitting streak came too late. McCutchen ended April with a .219/.330/.417 line, but his OPS has gone up in each month since. He's currently hitting .291/.390/.494 with 12 home runs and 15 stolen bases, absolutely worthy of selection.
"I could go to every team and there's a guy who didn't make it and has the numbers to be there,'' Bochy said. "You don't want to snub anybody."
For more baseball news, rumors and analysis, follow @cbssportsmlb on Twitter or subscribe to the RSS feed.