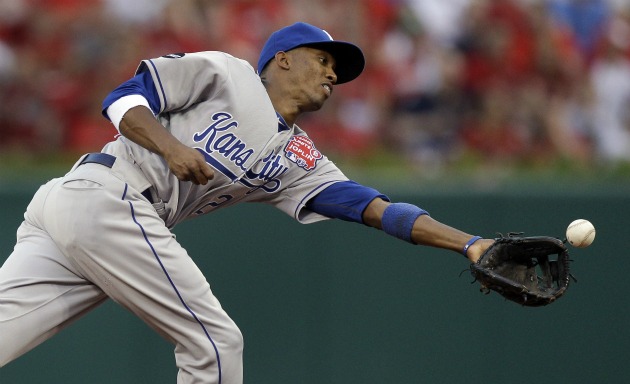 By C. Trent Rosecrans
The All-Star Game is supposed to showcase the game's best players, but when it comes to position players, we all know offense trumps all. The players with the best offensive numbers are headed to Phoenix next week.
Defense gets its due after the season with the Gold Gloves, but too often those are rooted in offensive numbers, as well. So, while everyone is focused on batting average, home run totals and OPS, I prefer to look at the guys getting it done on D.
Of course, one of the reasons we focus on offense is it's just easier to look at and interpret those numbers. The quantification of baseball defense is still one of the great last frontiers of statistical analysis -- there are attempts at advanced numbers measuring defense and even some very good, useful ones. But even with UZR/150, plus/minus, runs saved and range factor, it's tough to fully appreciate defense without watching a player day-in and day-out.
Even the best metrics can't tell the whole story, but they do have a start. One of the best stats for defense, UZR -- or Ultimate Zone Rating -- doesn't exactly tell the whole story even after an entire season's worth of data. At this point, UZR gives just a snapshot. That's why I'll use UZR/150 -- UZR rate per 150 games. I also looked at John Dewan's plus/minus system and runs saved stats.
We here at Eye On Baseball watch a lot of baseball, but it's still tough to get a real good handle on all the defensive players in baseball, so I'll use my observations plus statistics, both advanced and traditional in picking the game's best fielders.

C: Catcher is one of the toughest positions to judge -- or at least quantify -- because it's so much different than all the other positions on the field. Catcher is easily the most demanding defensive position on the field. The likes of Yadier Molina and Carlos Ruiz are known as the gold standard for catcher's defense, but I'm going with a young player who has showed incredible improvement and proven to be one of the best in the game, and that's Baltimore's Matt Wieters.
Check out this play from April, it's one that's stuck with me all year, as Wieters blocks the plate from Derek Jeter.

1B: Defense is often taken for granted at first base because it's assumed it's not an important position and just a place to stick a slugger. Well, Boston's Adrian Gonzalez is a slugger, but he's also one of the game's best all-around players. A good first baseman -- and Gonzalez is certainly that -- makes the entire defense better. He leads the way in UZR/150 at 11.6 and has just two errors this season.

2B: This one is tough for me, because I believe in the numbers, but I also believe in my eyes. Tampa Bay's Ben Zobrist is beloved by the advanced metrics, logging a 20.4 UZR/150 and a +11 plus/minus, easily the best at second base in both categories. However, it's tough to go against the Reds' Brandon Phillips, who I've seen most days for the last four years. Phillips not only makes the spectacular plays, but he also makes the routine ones. The two-time Gold Glove winner has just two errors to Zobrist's five. Dustin Pedroia is also in the conversation, with a +4 plus/minus and an 18.5 UZR/150, but my eyes tell me it's tough to play much better at second base than Phillips. In this one, I'm going with my gut (it's bigger than my brain anyway) and picking Phillips.

SS: It's tough to imagine the difference the Royals see in defense at shortstop this season, going from one of the game's worst defenders in Yuniesky Betancourt to Alcides Escobar, who has been exceptional at short (the opposite could be said about the Brewers). Escobar has seven errors -- just two fewer than Betancourt, but his range is outstanding. He leads all shortstop with 285 assists and second with 58 double plays. As for the advanced metrics, he and Troy Tulowitzki both grade out with a 14.2 UZR/150 and Escobar edges the Rockies' shortstop in Dewan's plus/minus, +17 to +13. Tulowitzki is by far a better all-around player, but Escobar gets the nod here by the slightest of margins.

3B: Alex Rodriguez may be the most scrutinized player of all time, so it's easy to forget just how great of a player he's been throughout his career. Unlike many, his offensive numbers seem to overshadow his defensive prowess. It seems like this season he's been completely healthy for the first time in years and it's showing up in his play at third base. Rodriguez's 21.2 UZR/150 is the best in the game at third base and he has seven fewer errors than the next guy on the list, Adrian Beltre of the Rangers.

LF: This may be the easiest of all the positional picks, as Brett Gardner has played a nearly flawless left field for the Yankees this season. Gardner combines great speed with good fundamentals to become one of the best defensive players in the game. Gardner dominated the advanced stats, scoring +19 in the Dewan plus/minus system and has a 38.1 UZR/150. He has one error and four assists, as his reputation keeps runners close. Sam Fuld may make more highlights, but Gardner makes more plays.

CF: Shane Victorino has played a flawless center field this season, at least according to the official scorers around baseball. Victorino doesn't have an error this season and also has the best UZR/150 of any center fielder in the game at 24.3. Dewan's plus/minus prefers Minnesota's Denard Span, but I'm sticking with the Flying Hawaiian.

RF: Torii Hunter is one of the game's all-time best defensive players, but moved to a new position last season with the emergence of Peter Bourjos in center field. Hunter's gone from one of the game's great defensive center fielders to maybe its best right fielder. Hunter has a +16 in Dewan's plus/minus, while UZR/150 likes him less than Shin-Soo Choo or J.D. Drew. Add in the error-less performance this season, gets the nod. We've seen so many of his great catchers over the years, but he's been able to show off his arm in right this season, picking up eight assists so far this season.

P: White Sox starter Mark Buehrle has won the last two American League Gold Gloves as a pitcher and certainly deserves those honors. His 6-foot-2, 230-pound frame belies a very good athlete, who covers a lot of ground in front of his mound. The left-hander then makes strong, accurate throws, just as you'd expect from a pitcher.
For more baseball news, rumors and analysis, follow @cbssportsmlb on Twitter or subscribe to the RSS feed.