By C. Trent Rosecrans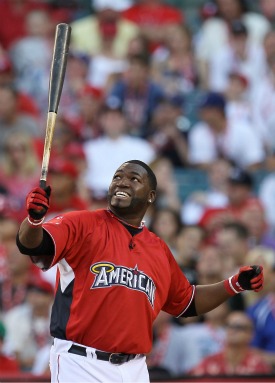 David Ortiz has a posse.
In the new setup for the Home Run Derby, each team has a captain that picks his team for the competition. Sunday the American League captain said he'd started rounding up his crew.
Ortiz has already gotten commitments from teammate Adrian Gonzalez and the majors' leading home-run hitter, Jose Bautista. Ortiz told reporters he'd wanted the Yankees' Mark Teixeira, but Teixeira was left off the All-Star roster. Teixeira, though, told reporters after Sunday's game that he wasn't interested in participating in the Home Run Derby (MLB.com's Bryan Hoch on Twitter). Ortiz said he's still waiting to hear from Teixeira whether or not he'd still participate. The next two names on his list are the Yankees' Robinson Cano and the Rangers' Josh Hamilton.
"I've talked to Cano, and he told me he would do it," Ortiz told reporters, including Brian MacPherson of the Providence Journal. "I haven't talked to Hamilton. I haven't talked to him, but that guy got me tired hitting bombs [at Yankee Stadium in 2008], and if he wanted to do it, I might say, 'OK, hit for me.'"
Hamilton had previously said he doesn't want to participate in the derby, but on Sunday he told the Associated Press he'd consider it if Ortiz asked.
Prince Fielder said he wants the Dodgers' Matt Kemp on his side. Fielder told MLB.com that he hadn't talked to Kemp, but has communicated with him through former Brewer and current Dodger outfielder Tony Gwynn.
Fielder's teammate, Ryan Braun, said he wouldn't participate, while Rickie Weeks is on Fielder's short list. Weeks said he hasn't been asked, but would participate if Fielder picks him.
Cardinals outfielders Lance Berkman and Matt Holliday expressed interest in participating, as well.
"It would be hard to turn down an invitation," Berkman told MLB.com. "That would be tough to say no."
For more baseball news, rumors and analysis, follow @cbssportsmlb on Twitter or subscribe to the RSS feed.