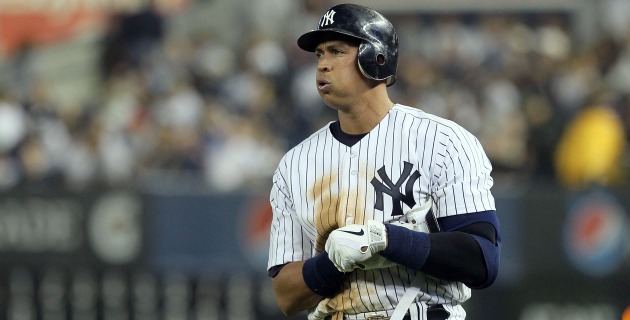 By Evan Brunell
Despite being warned to stay away from illegal high-stakes poker games by baseball,
Alex Rodriguez
has found himself exposed in a poker ring that also ensnared Hollywood A-list celebrities in Ben Affleck, Leo DiCaprio, Matt Damon, Tobey Maguire and other stars,
Star Magazine reported via RadarOnline.com
.
This revelation has drawn the attention of baseball, with senior vice president of public relations Patrick Courtney
telling RadarOnline.com
, "This is the first we have heard about this and we will look into it."
Maguire is currently being sued by Brad Ruderman, a hedge fund trustee who is currently in jail for running a Ponzi scheme and using the hedge fund's money to pay gambling debts. Ruderman ran the games along with Molly Bloom and lost around $300,000 to Maguire in the poker games before an FBI investigation busted the ring open in 2009.
Maguire admitted
to playing, but denied any wrongdoing, both in how he earned his money and that the games were illegal and not run by Bloom, who testified otherwise in an affidavit.
Rodriguez refused to comment on the story, according to
ESPN New York
.
"I'm not really going to get into any of that right now. We're going to focus on good little baseball here against a great team. ... Any basketball questions? Any boxing questions?"
Rodriguez played in one such poker game as recently as two months ago, which had a buy-in of $40,000. That sounds like a lot, but it's a drop in the bucket for A-Rod who will make over $438 million, plus a possible $30 million in bonuses for reaching 763 career home runs, in his career, which does not includes sponsorship income.
"Initially, A-Rod came to the game and simply watched," a source told Star. "But once he knew what it was all about, he bought into the game. He played two or three times, I would estimate."
"I was surprised to see just how good a poker player Alex is," poker player Adam Bilzerian, who has played with A-Rod, told Star.
"I remember I was sitting at a table a few years ago at the Bellagio in Vegas and in comes Alex and the dude sat at the same table that I'm playing at," he said. "The average buy-in was about $5,000 but you could buy in for $100,000 if you wanted to. There were about seven other players at the table. Alex busted everyone except me. I was like 'Whoa, this guy can play.' He had an amazing run. He won about $20,000 and left with everyone's money."
Seems like Rodriguez's poker face after slapping the ball out of Bronson Arroyo's glove in the 2004 ALCS came with plenty of practice.
A-Rod was warned in 2005 by baseball that his involvement in illegal poker games in New York was dangerous and could affect his image. Rodriguez had attended games with professional player and friend Phil Hellmuth, a former World Series of Poker champion. Rodriguez was not punished or told to stay out of the clubs, but commissioner Bud Selig was reportedly very unhappy and was "keeping an eye" on Rodriguez and would get involved "if necessary."
For more baseball news, rumors and analysis, follow @cbssportsmlb on Twitter or subscribe to the RSS feed.