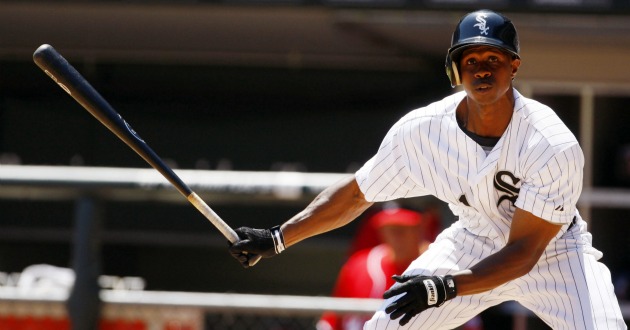 By Evan Brunell
Dayan Viciedo is creaming the ball in Triple-A, but is blocked from a promotion because he has nowhere to play.
It's not
Adam Dunn
,
Carlos Quentin
or even
Alex Rios
that's blocking Viciedo, all of which would make sense. Nope, it's
Juan Pierre
.
"I wish I had 25 Juan Pierres, with all due respect to [Paul] Konerko, [Alex] Rios, [Adam] Dunn," skipper Ozzie Guillen said, displaying his irrationality for all to see. "If you ever manage Juan Pierre, you appreciate the way this kid goes about his business."
That's all well and good, but however well Pierre prepares for the game and reminds Guillen so much of himself (which is really what's going on here), he's still hitting .262/.321/.312 in 363 plate appearances. Yeah, yeah, he's stolen 11 bases. He's also been caught 10 times, pushing his career caught-stealing to 183, which leads all active teams. Pierre has led baseball or the NL seven times, including this season.
Pierre has been so bad, he has a negative WAR on the season. That's right, Pierre has been worth one win less than a replacement player; any average Joe currently plying their trade in Triple-A. And yet, Guillen insists on playing Pierre as much as possible because he has a fantastic work ethic and is the only person in baseball (according to Guillen) to work on his leadoffs from bases regularly, also practicing bunts and extra fly balls in the outfield. That hasn't stopped Pierre from getting caught 48 percent of the time on the bases or being brutal defensively, but hey, work ethic!
(To give Pierre some credit, over his last five games he is 10-for-23 with three extra-base hits, driving in six runs on a .435/.462/.609 line. But: six games.)
Using
Baseball Musings' lineup tool
, we see that nine Juan Pierres in a lineup would give the team 3.487 runs a game. Compare that to the usual lineup sent out by the
White Sox
with an average of 4.352. That lineup has six players with slugging percentages under .400 -- Pierre (.312), Dunn (.312), Rios (.325),
A.J. Pierzynski
(.395),
Gordon Beckham
(.357) and
Brent Morel
(.306) and still outproduces all nine Pierres by a full run.
Put simply, Guillen's Pierre-colored glasses are harming the team dramatically, and there doesn't seem to be any way for GM Kenny Williams to excise Pierre from the lineup. Commanding Guillen to bench Pierre won't work given the two's frosty history. If Pierre is on the team, Guillen will play him.
''I might lose some respect from the players,'' Guillen said on benching Pierre. ''People believe in Juan; they know he's our leader. I'm not afraid to bench a guy that's not producing, as long as I have something else better or equal. But I think he plays the game right. He works. A lot of people look up to him. Our players love him.
''I always say it's about winning; I don't care about feelings. But you have to be careful. You have to be careful how you treat your players, how your players are going to respond. If I do that to Juan, well, I never did it to anybody else. A lot of people have struggled, and I say, 'I'm not going to bench you.'  ''
That same frosty history between Williams and Guillen also has to be affecting the chance of a Pierre release, as Williams has continually said he doesn't want to step on Guillen's toes. This is a passive power struggle, as the Sun-Times reports. Instead of one or both sides trying to seize power, both are trying to stay out of it.
At this point, the only way Pierre will stop playing for the White Sox is for Kenny Williams to show him the door after the season, as Pierre is an impending free agent.
For more baseball news, rumors and analysis, follow @cbssportsmlb on Twitter or subscribe to the RSS feed.