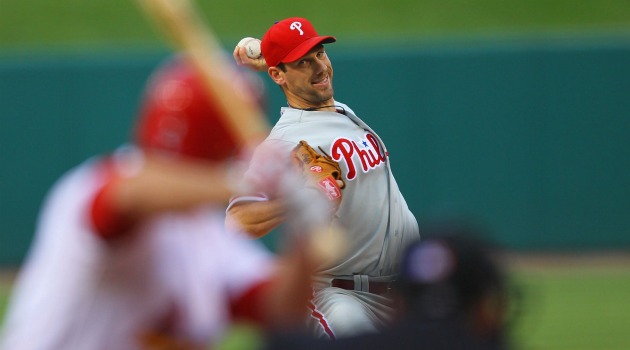 By Evan Brunell
Baseball is at the halfway point in the season, and the man getting all the attention lately is
Cliff Lee
, the runaway pitcher of the month for June as voted by CBSSports.com experts.
With a 5-1 a
dvantage, Lee took home the honors after posting a sparkling 0.21 ERA (no, the period is not transposed) and running up a 5-0 record.
June's Best
Expert
Batter
Pitcher
Knobler
Reyes
Lee
Miller
Reyes
Lee
Brunell
Kemp
Lee
Rosecrans
Fielder
Lee
Snyder
Kemp
Lee
Fantasy
Reyes
Verlander
Lee didn't pitch the most innings in the month -- the prize goes to
Justin Verlander
there ... or even whiff the most (
Zack Greinke
); or walk the least batters (
Josh Tomlin
). But when you put the whole package together, it's hard to deny Lee's month as one for the ages, allowing just one earned run in the month and it's not as if he was pitching against the
Mariners
of the world. He shut down the
Dodgers
and
Matt Kemp
, who finished second in batter of the month balloting. He handcuffed the
Cubs
for eight innings and then kicked off his three-straight complete-game shutouts by stifling the skidding
Marlins
. There was nothing skidding about his next two opponents, though, as he baffled the
Cardinals
and baseball's best offense in the
Red Sox
.
Kemp, meanwhile, fell to
Jose Reyes
to be named batter of the month although Kemp was one of the best offensive hitters in the game during June along with
Prince Fielder
.
Why Reyes, then?
Because he's been a wrecking ball no matter what aspect of the game. Fielding? He ranks positive in that mark for the month, continuing a yearlong trend of reversing the perception he had slipped in the field. His .385/.425/.598 slash line proves that he can hit for average and power just fine and knows how to wait for his pitch, while his 11 stolen bases were second in baseball to
Michael Bourn
's blistering pace of 14.
Fangraphs
' new baserunning metric shows him excelling in that mark as well, his 0.8 mark tying for 16th in baseball.
Even Kemp's sublime .375/.472/.795 line with nine home runs, 23 RBI and 18 runs can't outstrip Reyes. Prince Fielder himself was no slouch, with a .337/.491/.747 line and 10 blasts, driving in 27 and scoring 19.
Past players of the month:
April
|
May
Batter of the Month
Danny Knobler
Scott Miller
Jose Reyes
Three guys hit 10 home runs in June. But only one guy had seven triples, only one guy scored 29 runs, and only one guy made the Mets watchable, all by himself. That's enough to win my vote, and it should be enough to get Sandy Alderson's cell phone buzzing with trade offers.
Jose Reyes
Nobody in the game is more exciting and fun to watch right now. Reyes scored 29 runs in the month of June, the most he's ever scored in one month and the second-most of any month in team history (Edgardo Alfonzo scored 31 in August 1999). He runs, he hits, he fields ... doubles, triples, steals ... take your pick. This is the Jose Reyes the Mets thought they could get if he could stay healthy. Sit back and enjoy.
Evan Brunell
C. Trent Rosecrans
Matt Kemp
Let's bust out some advanced metrics to try and figure out just how good Kemp was this month. wOBA is basically OPS, just jiggered a bit to correct flaws present in OPS and is scaled to OBP. Kemp's wOBA was a jaw-dropping .537, best among mortal men. (Jose Bautista, far from mortal, topped Kemp in April.) Put another way, Kemp created 151 percent more runs than the average player in June. Even below-average fielding can't obscure how damaging Kemp was at the plate.
Prince Fielder
It's not just that he hit 10 homers this month while batting .337/.491/.747, it's that he's done it when his team has needed him the most. In the thick of a pennant race, Fielder's delivering, with a 1.76 win probability added -- dwarfing every other player in baseball during the month. In a 10-game stretch earlier in the month that saw the Brewers go from 2 1/2 games back to first place in the NL Central, Fielder clubbed eight homers and had an OPS of 1.828.
Matt Snyder
Fantasy -- Scott White

Matt Kemp
Very similar numbers to Fielder, but Kemp gets the nod with a bit higher average (.375), slugging percentage (.795) and eight stolen bases. As everything else with the Dodgers seems to be falling apart around him -- both on and off the field -- Kemp has been a steady force.

Jose Reyes
In June, Reyes boosted his MVP candidacy by making the Mets actually look like a contender with a 16-11 record. He had an MLB-leading 45 hits, putting him on pace for 248 this season, and once again showed the value of healthy legs with 11 steals and an astounding seven triples. He led all hitters in fantasy points and did it at arguably the weakest position.
Pitcher of the Month
Knobler
Miller
Cliff Lee
I almost made Luis Montanez of the Cubs the player of the month, because of the 147 batters who came to the plate against Lee in June, he was the one -- the only one -- who drove in a run. Not that it mattered. Lee won that game, 7-1. And he followed that Montanez hit with 32 consecutive scoreless innings -- and counting.
Cliff Lee
As pitching has re-emerged over these past two seasons, Lee right now is changing our thinking from staying on no-hitter alert to hawking shutouts. Three in a row and counting, Lee has been untouchable. And he's showing why these Phillies are the best in the NL: With their rotation, it's like that old game of Whack-A-Mole. You knock one or two of their starters down, another ace pops up somewhere else. Good luck, opposing hitters.
Brunell
Rosecrans
Cliff Lee
Lee or Verlander? Verlander actually outpitched Lee in peripherals, besting Lee in strikeout and walk metrics, but the bottom line is that Lee allowed exactly one run to cross the plate, induced over half of his batted balls allowed as groundballs and looked like he was playing catch the whole time.
Cliff Lee
The only thing more ridiculous than Verlander seeing his June ERA rise after allowing just one run in seven innings in his sixth win of the month on Thursday is that Verlander with a 6-0 record and 0.88 ERA for the month wasn't the best pitcher in June. With all due respect to Verlander, it was Lee, who went 5-0 with an 0.21 ERA, allowing just one run in five starts and 42 innings this month. Unreal.
Snyder
Fantasy -- Al Melchior

Cliff Lee
It's a toss up between Lee and Verlander, but I'm going Lee due to going an entire month only allowing one run and having pitched in all but three possible innings (42 IP in five starts) when he took the hill. That's just absurd. Verlander's been the top pitcher for the entire season, but in looking only at June, Lee's month was slightly better for me.
Justin Verlander
In the world of real baseball, Cliff Lee would be my choice for pitcher of the month. In Fantasy, though, strikeouts count, and Verlander delivered them in much greater quantities. Like Lee, Verlander limited his walks, and he also remained one of the best pitchers in the majors at getting batters to pop out.

Danny Knobler and Scott Miller are Senior MLB Writers; Evan Brunell, C. Trent Rosecrans and Matt Snyder are Eye on Baseball Bloggers; Al Melchior is a Fantasy Data Analyst; and Scott White is a Fantasy Writer.

For more baseball news, rumors and analysis, follow @cbssportsmlb on Twitter or subscribe to the RSS feed.