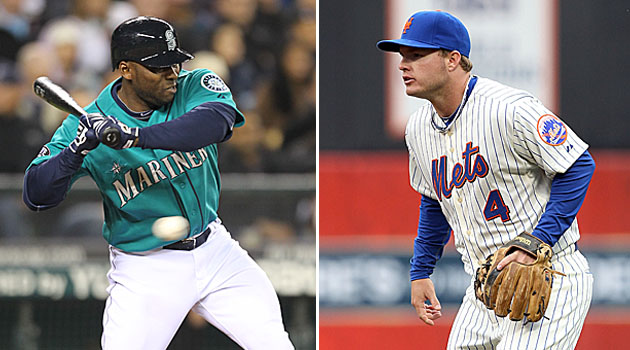 By Matt Snyder
Voting for the Major League Baseball All-Star Game closes 11:59 p.m. ET Thursday night, so there's just over a day to get those votes in. You can do so on
MLB.com by clicking here
. We've been discussing for quite a while now who the starters should be and will continue to do so until the game is played. Once the voting is closed, it turns into complaints on who
should
be starting.
Anyway, just for fun, I thought I'd go through and see what the worst possible vote would be, obviously using only the guys on the ballot. It's all subjective, just as it is to try and build the best lineup, so there's definitely room for disagreement. For the most part, we'll pick guys who are undeserving based upon performance, because injuries to good players like
Buster Posey
could nol be foreseen when the voting started. And, no, I'm not submitting this ballot.
American League
C -
Jeff Mathis
can't hit a lick, and though his manager belives he's a superior defensive catcher. None of the other options are really worthy of taking behind Mathis, unless you really want to believe
Joe Mauer
is presently playing the way he will for the rest of his career. Mathis is the pick.
1B - In a tight one over Kila Ka'aihue, Dan Johnson gets the nod, as he hit .115 with a .179 on-base percentage before his demotion to Triple-A.
2B - Three-horse race between
Tsuyoshi Nishioka
,
Jack Wilson
and Will Ryhmes. We'll give Nishioka a free pass for the broken leg. Rhymes has been demoted but is hitting well in the minors. Wilson's lost his job and has a brutal .256 on-base percentage. The pick is Wilson, but it's a close one.
SS -
Reid Brignac
of the
Rays
temporarily lost his job and won it back, but he's still the worst option on the ballot, sporting a .181 average, .229 OBP and basically no power.
3B - Jason Donald hasn't even played a game in the bigs this season. Sure, he's had a few injuries, but when he's been healthy he's been playing in Triple-A. If you want a player who has been playing in the bigs, the choice is
Chone Figgins
.
DH -
Adam Dunn
. Period.
OF - Milton Bradley is easy, as the
Mariners
washed their hands of him long ago. Travis Snider's only played in 25 games due to injury, but he was hitting .184 with just one home run. He's the second pick. We'll tab
Ryan Raburn
for the last pick, as he has an OPS of less than .450 since the end of April.
Batting order:
1. Brignac, SS
2. Raburn, CF
3. Snider, RF
4. Dunn, DH
5. Bradley, LF
6. Donald, 3B
7. Johnson, 1B
8. Wilson, 2B
9. Mathis, C
National League
C -
J.R. Towles
is pretty clearly the worst option, even if he has missed some games due to "general soreness."
1B - He's going to be good, but
Brandon Belt
wasn't this season when he was in the majors. Other options would be the injured
Adam LaRoche
,
Juan Miranda
, who is now platooning with
Xavier Nady
for Arizona or
Lyle Overbay
. I think I'll go with Miranda, as he's lost part of his job and hasn't had injury issues like Belt and LaRoche.
2B - Brad Emaus. Easily the funniest name on the ballot. The
Mets
gave up on him after 14 days, so they had to return him to the
Blue Jays
-- as he was a Rule 5 pick -- who then traded him to the
Rockies
.
SS - An argument could be made for
Hanley Ramirez
, but we know his capabilities. He's not cooked yet and there are tons of options here.
Jason Bartlett
,
Ronny Cedeno
,
Miguel Tejada
,
Ian Desmond
,
Paul Janish
and
Clint Barmes
have good cases, but I'll go with
Yuniesky Betancourt
. It doesn't really feel like there's a wrong answer to pick any of the names mentioned, though.
3B - Another position with lots of good (bad?) options.
Pedro Alvarez
was brutal before his injury, but he's not even close here. No, this is a two-horse race between
Donnie Murphy
and Ian Stewart. Murphy only played about a month before his injury, so Stewart gets the nod. He probably would have anyway. The former prospect who hit 25 homers in 2009 was hitting .064 with an embarrassing .085 slugging percentage before his demotion to Triple-A.
OF -
Rick Ankiel
spent some time on the DL, but he's played in 48 games and still only has a .204/.271/.276 line. There are a few other options, but Dexter Fowler and
Chris Coghlan
were both demoted to Triple-A. Granted, Fowler's demotion occured after he came off the DL, but he was still sent down -- so they get the nod. The funny thing about those two is that heading into the season it was conceivable the two would be worthy of picking up a few votes. It would have been doubtful either had a shot to get close to starting, but I don't think we could say those sounded like laughable selections back on opening day.
Batting order:
1. Coghlan, LF
2. Fowler, CF
3. Miranda, 1B
4. Ankiel, RF
5. Stewart, 3B
6. Betancourt, SS
7. Emaus, 2B
8. Towles, C
Wow, those are some bad batting orders.
For more baseball news, rumors and analysis, follow @cbssportsmlb on Twitter or subscribe to the RSS feed.