By Evan Brunell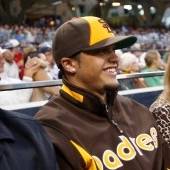 The
Padres
' first-round pick way back in 2009, Donavan Tate, has been suspended for 50 games following a second positive drug test, baseball announced Tuesday.
Tate was suspended for a drug of abuse, not performance-enhancing, which is why his first positive test earlier this season did not carry a ban on games played. However, Tate has already missed the previous 25 games due to undergoing substance abuse counseling, and those 25 games will be credited to the 50-game ban.
"It's obviously disappointing. He's a very talented player, but he's only had 180-something plate appearances since the draft in '09," Padres GM Jed Hoyer told CBSSports.com's Scott Miller. "We still have a lot of hopes for him. He has to get his act together and get on the field."
Dan Hayes of the
North County Times
is reporting that Tate tested positive for Spice, which is a synthetic cannabis (otherwise known as marijuana). It is unclear if Spice was also the culprit for Tate's first drug test, or if actual marijuana -- or another drug of abuse -- sparked the first test. Spice was previously sold legally but the government put in an "emergency" ban on Spice for one full year in March of 2011 to prevent abuse,
CNN.com reports
.
"To his credit, he's worked very hard," Hoyer said of Tate. "We're hopeful that this is a wakeup call to him and a catalyst to get his career back on track."
Tate, who was signed away from a football career, was a bust in his first professional season last season, hitting just .222/.336/.344 for the Padres' rookie ball affiliate and struggled with injury in both '09 and '10. This season, the outfielder hit .316/.435/.421 line in six games for Class A before moving down a level and playing in 11 games for low-Class A, hitting .286/.340/.490. He missed the cycle by a home run on Sunday, stealing two bases and going 5 for 6 with two doubles, four runs and a RBI.
Between the injuries and abuse problems, Tate has essentially missed two full seasons. Strong numbers, but a far cry from the accomplishments that the No. 1 and 2 overall pick have done to date, with
Stephen Strasburg
dazzling major leaguers before undergoing Tommy John surgery. The
Mariners
'
Dustin Ackley
was recently promoted to the bigs and is hitting .303 in the early going. (It should be said that Tate came out of high school while Strasburg and Ackley were in college.)
"He's a great player and an even a better teammate," Cory Spangenberg, a teammate of Tate's who was drafted in the beginning of June, told MiLB.com. "One of the best teammates I have ever had."
Don't expect the Padres to give up on Tate just because of the drug suspension.
"We're very far from that point. We control his rights for a long time," Hoyer said. "For a lot of reasons, his performance inspires a lot of hope."
For more baseball news, rumors and analysis, follow @cbssportsmlb on Twitter or subscribe to the RSS feed.