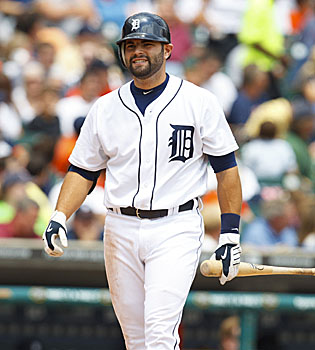 By Matt Snyder
In the last All-Star balloting update for the American League until the starters are revealed this coming Sunday, there are still several positional races too close to call. First things first, though. Here are the starters, if the voting was closed right now:
Russell Martin
,
Adrian Gonzalez
,
Robinson Cano
,
Alex Rodriguez
,
Derek Jeter
,
David Ortiz
,
Jose Bautista
,
Curtis Granderson
,
Josh Hamilton
.
Yes, that's five
Yankees
and two
Red Sox
. Fret not, Yankee and Red Sox haters, as there are some races that could easily shift between Tuesday and Sunday. Let's go position by position and examine where things stand.
At catcher, Martin holds a lead of just over 434,000 over
Alex Avila
of the
Tigers
, who has had a better season to this point.
Joe Mauer
is third, but he's not really within striking distance.
At first base, Gonzalez is slightly less than a million votes ahead of
Mark Teixeira
.
At second, Cano is close to two million votes ahead of
Dustin Pedroia
, so we can probably call that one.
Shortstop is going to be interesting.
Asdrubal Cabrera
should be the starter if you base your vote on who has been the best at the position in 2011. Jeter would get elected on career accolades, fame and popularity. Cabrera trails Jeter by just over 500,000 votes.
Third base could go down to the wire, as A-Rod leads
Adrian Beltre
by about 800,000 votes and
Kevin Youkilis
by just over a million. That's a decent-sized margin, but a late charge could supplant A-Rod.
At DH, Ortiz has a two million-vote lead, so it's likely over.
In the outfield, Jose Bautista is a given and Curtis Granderson would need
two
players to garner 2.5 million-plus more votes than him in the next few days to knock him out, so he's probably in, too. The last spot is definitely up for grabs, though. Hamilton leads
Jacoby Ellsbury
by less than 122,000 votes.
If Ellsbury tops Hamilton and everything else remains as it is, there will be one starter not a player for the Yankees or Red Sox -- Jose Bautista -- and every single starter will be from the AL East.
Click here to view full voting tallies (scroll down)
Click here to vote
For more baseball news, rumors and analysis, follow @cbssportsmlb on Twitter or subscribe to the RSS feed.