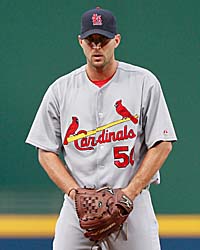 By Matt Snyder
Cardinals
ace
Adam Wainwright
had Tommy John surgery in February, a procedure that generally takes at least a year of rehab before the pitcher is able to return. But Wainwright has other ideas.
"My modest goal," he said, "is try to talk them into letting me play on the playoff roster in October." (
St. Louis Post-Dispatch
)
Wainwright's obviously a competitor and wants to help the Cardinals win, but the
Post-Dispatch
points out another reason: Cold, hard cash.
If Wainwright joins the roster before the end of the season, a two-year, $21 million option to his contract would automatically vest. Otherwise, he's a free agent in the same offseason when the Cardinals are trying to re-up with
Albert Pujols
, who is, coincidentally, also injured. The rationale wasn't lost on teammate
Skip Schumaker
, who reportedly was joking around with Wainwright about only playing for the money.
"He said, 'You're just doing it for the money.'" Wainwright told the
Post-Dispatch
. "I said, 'No, I'm doing it for both.'"
Now, this is seemingly where people like to stigmatize athletes as greedy, but can you really blame a guy for wanting $21 million? I'd certainly be motivated. So would you. Don't lie.
As far as Wainwright's actual progress, he hasn't thrown a baseball yet. He is throwing a weighted red ball, and he reportedly says he's "firing that thing" pretty hard. Assuming no setbacks -- and he reportedly hasn't had any yet -- Wainwright can begin throwing off a mound in late August or early September.
If that happens, Wainwright is insistent on joining the club
and
the Cardinals would allow it, he could probably join the bullpen come October. He'd likely be limited and unable to throw on back-to-back days, but it's plausible to see him on the playoff roster. Wainwright has come out of the bullpen before. In fact, he was stellar in the 2006 postseason en route to the Cardinals winning it all. He worked 9 2/3 innings of scoreless ball while picking up four saves.
Of course, the Cardinals are currently three games out in the NL Central and have lost 12 of 15. They're also playing without Pujols for the next three to five weeks. It's going to be tough to get to the postseason. If they do make it, however, I wouldn't be shocked to see Wainwright for an inning every few days.
For more baseball news, rumors and analysis, follow @cbssportsmlb on Twitter or subscribe to the RSS feed.