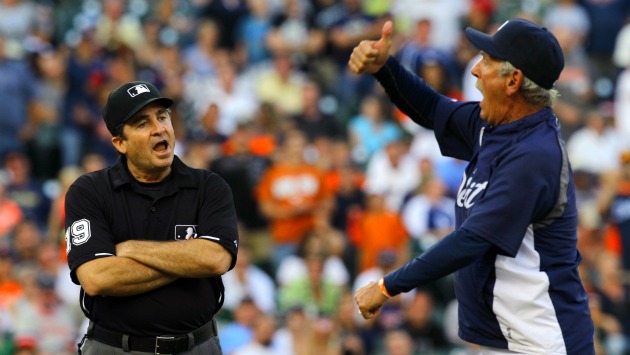 By Evan Brunell
During Monday's game, Jim Leyland performed perhaps his most animated argument ever with umpires, earning his first ejection of the season.
In the seventh inning, Toronto second baseman
Aaron Hill
attempted to throw out
Andy Dirks
on a bunt. First-base umpire Ed Rapuano froze for several seconds before ruling Dirks safe, saying
Adam Lind
had left the bag to make the catch. That caused
Blue Jays
manager John Farrell to complain as replays clearly showed Dirks was out and Lind was on the bag. Rapuano spoke to home-plate umpire Alfonso Marquez, who confirmed that Dirks was out, so Rapuano changed his mind.
Jim Leyland wasn't happy about that, but Rapuano let him scream his heart out and remained patient even when Leyland asked Rapuano multiple times why the umpire was "fornicating" (except it was a different f-word) him. But Leyland finally got the thumb when he decided to re-enact Rapuano's initial, delayed safe call followed by calling Dirks out. And Leyland was only getting started, continuing to holler for a few minutes and giving Marquez a piece of his mind.
It wasn't the call at first that drew Leyland's ire, though. "It was more the appeal at first base," starter
Max Scherzer
, who was in the dugout,
told MLB.com
. "He just hadn't seen that call before, where he appealed to home plate. I think that's what he was upset about."
All due respect to Leyland, but Rapuano's actions should be applauded. Although Rapuano appeared to be in perfect position to make the call, it was pretty clear that he was not sure what the right call was. In that situation, he found another umpire who could confirm the correct call and then changed his own call. That's all you want from umpires -- to make the right call. (Got that, Joe West?)
Check out the video of Leyland's ejection below.
For more baseball news, rumors and analysis, follow @cbssportsmlb on Twitter or subscribe to the RSS feed.