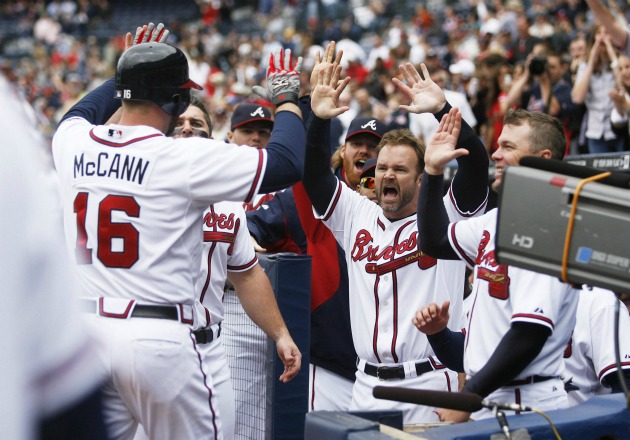 By C. Trent Rosecrans
David Ross is probably baseball's best backup catcher, and he's fine being in that role.
Although Ross is hitting .308/.390/.519 this season with three homers in 59 plate appearances and is one of the game's better defensive catchers, he told the Atlanta Journal-Constitution's David O'Brien that he's not in favor of moving Brian McCann from behind the plate to open a spot for the 34-year-old.
"There's a reason why I'm a backup," Ross told O'Brien. "I've had a chance to succeed, I've had a chance to start. I'm hit-or-miss over the longevity of a long season. I got exposed [as a starter] maybe, or however you want to look at it. I'm a better player now than I was then, but [backup] is also a good role for me to be in. Play as hard as I can for a couple of days, then get out for a couple of days, then get back in. It's a role that I'm comfortable in.
"Fans saying, 'Oh, David should play every day and move Mac to first, then we'll have a better bat in the lineup.' Well, David hit .203 for a season. [laughs] There were some home runs in there, but David hit .203 for a season. So let's not just jump to conclusions."
Ross is referring to 2007, when he had the chance to be a starter in Cincinnati, playing 112 games and hitting .203/.271/.399 with 17 home runs. The year before he did hit .255/.353/.579 with 21 homers to get the chance in '07.
Ross also defended McCann's defensive abilities.
'I think Mac is an All-Star not just because of his bat," Ross said in the interview. "He calls a great game. We have one of the best pitching staffs in the game, and catching is a huge part of that.
"Year to year, every player is different. But [for example], Javy Vazquez had a subpar year before he came over here and had one of the best years of his careers. And then left, and was just kind of average. Just logically, that could have something to do with Mac and the way he calls a game. I don't know that, but . . ."
I was also interested in what Ross had to say about being a backup. He said that sometimes being a role player is easier for a veteran, because young players never come to the big leagues wanting to be a backup and when you've understood your own limitations, you are better prepared to accept that role and thrive.
The Reds released Ross in 2008 and he was signed as a free agent by the Red Sox that season and was on the team's postseason roster, showing the value his glove has. After that season, the Tallahassee, Fla., native signed as a free agent with the Braves and has thrived since then. As a Brave, he's hit .286/.386/.498, but has been strictly a backup to McCann, the National League's best offensive catcher.
For more baseball news, rumors and analysis, follow @cbssportsmlb on Twitter or subscribe to the RSS feed.