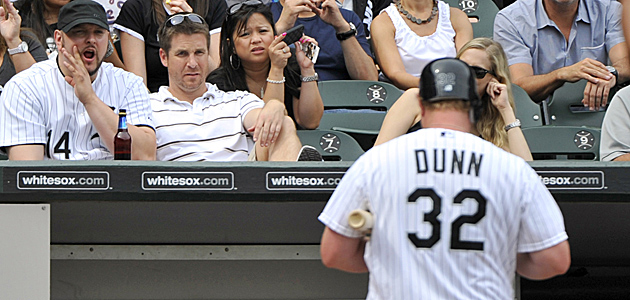 By Matt Snyder
Friday night,
Adam Dunn
singled, doubled and was robbed of a home run by
Roger Bernadina
of the visiting
Nationals
. It was the type of game that could help a struggling player regain some confidence and possibly climb out of a funk. Since then, however, Dunn is 0-7 with seven strikeouts. Sunday, he left four guys on base in a 2-1
White Sox
loss. The boos at U.S. Cellular Field are getting louder and louder. Dunn has not only lost all his confidence, but he looks lost at the plate and his bat speed seems to have severely dwindled for someone only 31 years old.
It's not early anymore, as the White Sox have 78 games in the books, so it's time to start questioning if 2011 is going to be a lost season for Dunn. He's long been stigmatized for a low batting average, poor defense and a high strikeout total, but that was more than canceled out for years due to his power, on-base ability, durability and consistency. From 2004-2010, Dunn's
average
season was a .381 on-base percentage with 40 home runs, 101 RBI, 30 doubles and 94 runs. That's a career year for the overwhelming majority of major leaguers. For Dunn, it was what he did for seven straight seasons.
Because of this, the White Sox awarded Dunn a four-year, $56 million contract this past offseason. The past performance and the contract are also why they're still standing behind him. Before Sunday's game, manager Ozzie Guillen and general manager Kenny Williams met with Dunn and assured him they are squarely behind him (
Scott Merkin
via Twitter).
"I wish I could be in his brain to see what he's thinking. I know it's not a good thing, but believe me, if there's one person who feels bad about this situation, it's him," Guillen said after the game (
Merkin Twitter
).
And the mentality is precisely the problem. Everything has fallen apart for the (former?) slugger. After Sunday's debacle -- where he struck out all four times he took the batter's box -- Dunn has struck out exactly 100 times. He's done it in 231 at-bats. He's always struck out a good amount, but his rate has skyrocketed, while none of the things he used to bring to the table are present. He only has 40 hits. He's only on pace for 15 home runs and 60 RBI. The on-base percentage is down below .310 and his batting average has fallen down to .173.
If you watch enough White Sox games with any number of broadcast teams, you'll invariably hear something like: "he's going to hit. It's not a matter of
if
, it's a matter of
when
." I'm not sure I buy that, though, at least not for this season. I did a month ago, but not now. Saying things like "regression to the mean" sometimes leaves out the human element. Dunn is mentally whipped. That can't be broken by simply viewing a stat readout. With this kind of extended slump, there's no telling how long it takes before he can break out of it. It could be next week, sure. It could also be next season. Or never. Don't discount mentality playing a huge factor in hitting a baseball. It's hard enough to do when a player is confident. It's much, much worse when he's desperate to get things going in front of a new set of fans who are giving verbal lashings every chance they get.
For more baseball news, rumors and analysis, follow @cbssportsmlb on Twitter or subscribe to the RSS feed.