By C. Trent Rosecrans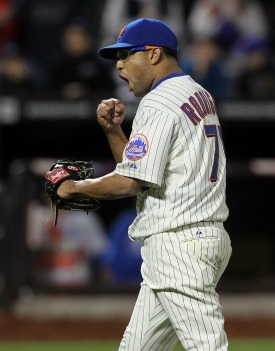 Yesterday when asked about Jose Reyes, Yankees general manager Brain Cashman said he already had a shortstop and was more interested in bullpen help. Well, maybe the Mets can help him out there, too.
While Francisco Rodriguez can block trades to 10 teams, the Mets closer said he'd change teams -- and roles -- if he was moved to a contender.
"If I am going to be traded, obviously I want the opportunity to close out games, but if it's going to be good teams like the Yankees or the Rays, and it's going to be for two months, I can go out there and help them out," Rodriguez told the New York Daily News' Kristie Ackert.
Rodriguez noted he doesn't know which teams are on his no-trade list and would prefer to stay with the Mets.
Rodriguez is in the third year of a three-year deal worth $37 million. He has a vesting option for 2012 worth $17.5 million this season if he finishes 55 games. He has finished 28 games with 20 saves so far this season.
The Yankees have already lost setup man Joba Chamerlain for the season and also have another former closer, Rafael Soriano, on the disabled list. The team could certainly use a bridge to Mariano Rivera.
The Rays have Kyle Farnsworth closing right now. The 35-year-old right-hander has had a very good firs half of the season, wracking up 15 saves with a 2.17 ERA in 33 appearances, walking just two while striking out 20 in 29 innings.
For more baseball news, rumors and analysis, follow @cbssportsmlb on Twitter or subscribe to the RSS feed.