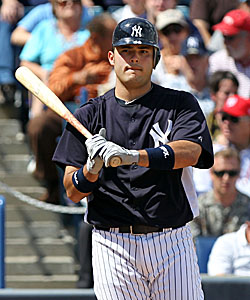 By Evan Brunell
Earlier this month, top
Yankees
prospect Jesus Montero was benched for two games for a lack of "energy,"
ESPN New York
reports.
Montero, who was in the running to grab a backup catcher's spot in spring training, was instead optioned to Triple-A
after a poor showing,
which has continued. Many believed that Montero was upset he was returned to Triple-A rather than playing under the bright lights of New York.
"I just get the feeling that Monte is so blessed physically -- and I hate to say it -- he is almost bored here in Triple-A," said Scranton hitting coach Butch Wynegar. "Maybe if he went to the big leagues tomorrow, this kid might just go off and he just might lock in."
"I think he expected to be in the big leagues by now," Mark Newman, the head of the minor leagues for New York, added. "And that is OK, too. Part of the development process is to learn how to deal with frustration, learn how to deal with things when they don't go exactly your way."
Montero was benched June 11 and 12, although he was used as a pinch-hitter on the 12th in a 12-inning game.
It's hard to blame the 21-year-old, who hit .289/.353/.517 last season in Triple-A and is probably the best option for the Yankees to DH, if Jorge Posada wasn't blocking the way. He's currently hitting .291/.337/.410, with just five home runs after bashing 21 last season. He's also thrown out just 17.8 percent of basestealers, which would rank among the worst in baseball, although Wynegar says he is becoming a better defender.
All this is a learning experience for Montero, who admitted he may have tried too hard in spring training when he saw a chance to make the big-league team -- and may have continued his bad habits of trying to over-pull the ball down in the minors.
"It is all in becoming a first-rate professional and he is still in the middle of that process," Newman noted.
If Montero can start raking soon, he could find himself in the majors before long. The Yankees aren't expected to continue giving playing time to Posada deep into the second half of the season if he doesn't start hitting better, which he has done so far in June.
For more baseball news, rumors and analysis, follow @cbssportsmlb on Twitter or subscribe to the RSS feed.