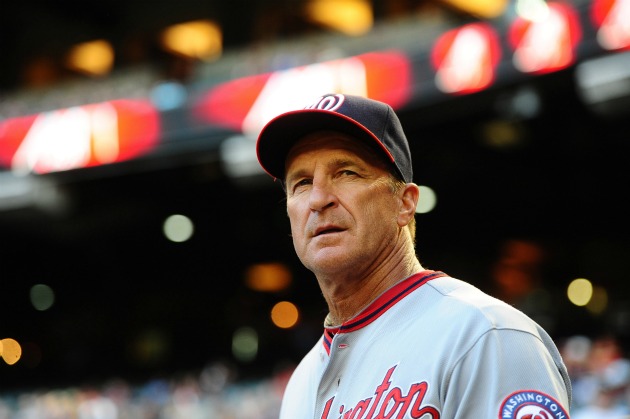 By Evan Brunell
Nationals
manager Jim Riggleman resigned Thursday after Washington edged to one game over .500 with a walk-off, 1-0 victory over the Seattle
Mariners
.
"If you're going to do this job, you have to be totally committed to it and you've got to feel there's a commitment to you and I just didn't feel that way," Riggleman told the MLB Network, pointing to being in the final year of a two-year contract and essentially serving as a lame-duck manager.
The 58-year-old had a club option for 2012 that the team had yet to pick up, and refused to do so when Riggleman issued his ultimatum. "I just wanted the option picked up. I want to make something clear: I wanted to have a conversation. I didn't say pick up my option or else. I wanted to have a conversation when we got to Chicago and they didn't want to do that.'"
"I'm 58. I'm too old to be disrespected," Riggleman later said to the
Washington Post
.
GM Mike Rizzo also appeared on MLB Network to explain his side of the story.
"Jim and I had a discussion before the game today and he told me of his displeasure over his contract situation and he told me if something wasn't done about the contract, he was going to resign after the game," Rizzo said. "We accepted his resignation."
Rizzo would later
send out a press release
that said "I am surprised and disappointed, personally, and am even more disappointed for our players and fans. I was always taught that one of the cardinal rules of baseball was that no individual can put his interests before those of the team." Rizzo also noted that Riggleman demanded an extension in order not to resign, while the skipper says he only wanted to talk about it.
Riggleman was in his second full year as Nationals manager. He replaced Manny Acta for the final 75 games of the 2009 season, posting a 33-42 record. He followed that with a 69-93 mark before starting 2011 with a 38-37 mark, which included victories in 11 of the last 12 games. The Nats did stumble to an 11-18 record in May, causing
Jayson Werth
to lash out, saying "changes need to be made," as
CBSSports.com's Scott Miller
recalls.
"I felt the time wasn't right for me to pick up the option at this time," Rizzo added. "And today the way it was put to me, I can't make that decision as a knee-jerk reaction. I'm the guy who hired him as the manager of the club, and I've supported him every step of the way."
Rizzo added that players were unaware of the move until after the game, when Riggleman confirmed that nothing had changed -- he would resign if his contract was not addressed.
"It's been brewing for a while," Riggleman told the MLB Network. "I know I'm not
Casey Stengel
, but I do feel like I know what I'm doing and it's not a situation where I felt like I could continue on with such a short leash, and every little hill and valley is life and death. The game's not fun that way. I just wanted to have a conversation when we got to Chicago and Mike wasn't ready to have that conversation.
"I feel like it's them saying, 'you know, you're not the guy.'"
The resignation ends Riggleman's tenure with his fourth team. He also managed the
Padres
from 1992-94, the
Cubs
from 1995-99 and the 2008 Mariners to finish out the season after then-manager John McLaren was fired. Riggleman's overall record is 662-824 and was set to be part of
Giants
manager Bruce Bochy's staff at the All-Star Game, which is unlikely to happen now.
Interestingly, bench coach McLaren may end up replacing Riggleman in Washington -- at least for the next few games. McLaren is the most likely candidate to fill in on an interim basis, although Rizzo said he is unsure who Riggleman's replacement will be.
This is a surprising blow to the Nationals and is definitely a step back for a team that had been improving on the field with results finally showing. It's understandable if Rizzo didn't want a gun to be held to his head in making a decision, especially with no warning as to how dissatisfied Riggleman was. At the same time, Riggleman certainly was deserving of having his option picked up, and it's curious that Rizzo wasn't willing to do that.
"I thought after 10 years, I earned the right to have a little bit of a longer leash," Riggleman said. "I may never get another chance, but I'll never do it on a one-year deal again."
Riggleman had been viewed as a lame-duck manager for quite some time thanks to his contract and his stature as 'just another manager;' someone who wasn't part of the Nationals' future.
He certainly isn't now.
For more baseball news, rumors and analysis, follow @cbssportsmlb on Twitter or subscribe to the RSS feed.