By C. Trent Rosecrans
Last night a fan caught a foul ball at AT&T Park in San Francisco and was booed, chastised by the Giants' announcing crew and had to be reseated for his own safety. And anyone who did one of those things and mentioned the name Steve Bartman is wrong.
Here's the video:
I don't care that Alexi Casilla grounded out in the same at-bat, so it didn't really do anything but add to Ryan Vogelsong's pitch count -- the fan can't know about that as the ball heads toward him.
Cody Ross isn't too happy about the fan making the play, and I understand that. That said, the fan was only reacting like any sane human would. The fella was there with his lady friend, and if you look here, the ball appears to be headed straight at the guy's said lady friend (cowering to the right in some sort of headband as the ball -- the white streak at the top of the picture -- heads toward her). For as far as the guy knows, the ball's going to hit his lady friend and he's protecting her.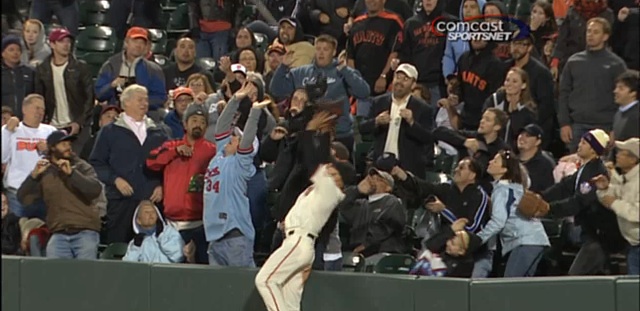 See, I've sat in seats a lot like those, and you've got to be alert at all times. The ball can come to you at any time. This fan was watching the game and saw the ball coming at him. With no wall to worry about, the fan watched the ball the whole way, just as you're taught all your life. He didn't know someone was getting that close to him, and it doesn't appear Ross calls him off. The fan doesn't reach over the railing; he had position; and Ross runs into him (and he still makes the catch!)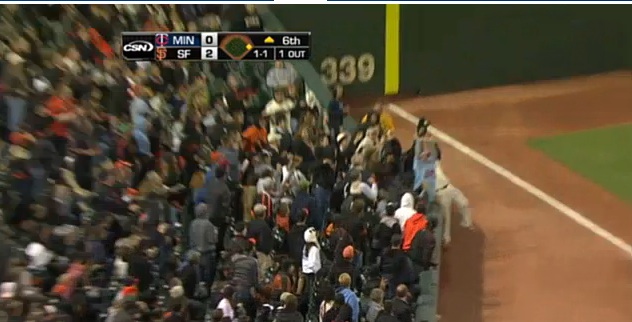 In the end, the fan did nothing wrong (unless you count violating my rule that you don't take a glove to the game if you're old enough to drive yourself to the game). He realized he may have cost the team an out, and you can see by the words he mutters to himself, he's not happy with that as a fan. That's all the penance needed.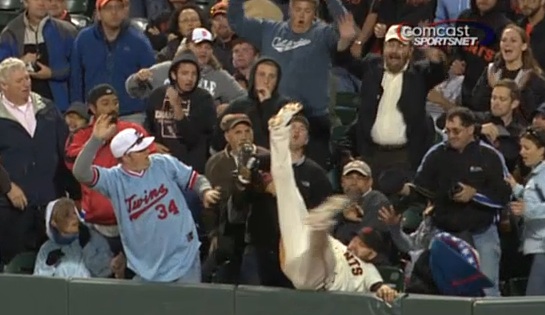 These things happen, and in one fan's case, it happens because he's being chivalrous. That isn't someone to boo; instead, it's just a man in unfortunate circumstances (and great seats).

Of course, I think Bartman gets a bum rap too, but that's another argument for another day.
For more baseball news, rumors and analysis, follow @cbssportsmlb on Twitter or subscribe to the RSS feed.